Last weekend, dozens of surfcasters at Wasque Point could hardly believe their luck. According to some accounts, the water churned with bluefish as fishermen reeled in catch after catch.
"Those were some of the best fishing days I've ever had," said Wayne Smith, a local photographer and avid surfcaster. On Saturday, Mr. Smith lost track of the number of fish he caught, but it was at least 15, he said. It was the same story on Sunday.
"I looked over at one point and there were 40 rods bent over," said Cooper Gilkes, owner of Coop's Bait and Tackle in Edgartown. "You look out there and you see the plugs [lures] coming in, and you see these big eruptions on the plugs — boom, boom! People are yelling and screaming."
Wasque Point, at the southeastern tip of Chappaquiddick, is seeing something of a return to the days before 2007, when a northeaster tore through the barrier beach to the west, separating Chappy from the mainland and putting the brakes on one of the Island's most treasured fishing spots.
In April, the breach finally closed, restoring Wasque Point and the churning rip current where bluefish and other species feed on the smaller fish that get trapped. The closure also restored vehicle access from the Chappy to Edgartown. On Wednesday, deep tire tracks covered most of Norton Point Beach, wrapping around Wasque Point and continuing north toward Cape Pogue. Several trucks were parked along the beach, and a handful of people stood casting into a calm sea.
"It's almost flat-calm," said Mr. Smith, scoping out a spot for the morning. But in a shallow spot farther east, water churned as the tide passed over, creating what locals call the rip.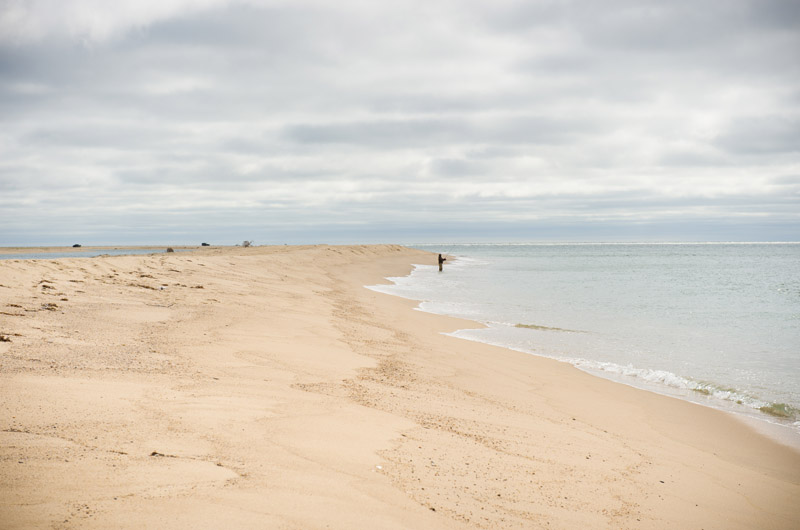 Sunlight shone through openings in a cloudy sky, illuminating the sand and creating a sparkling, turquoise sea. Piping plovers and other shorebirds scurried across the sand, while swallows, ospreys and gulls navigated a steady northeast wind.
It was a much quieter scene than last weekend, when fishermen were reeling in six-to-eight-pound bluefish with nearly every cast. Mr. Smith prepared his rod and lure, pulled on his waders and headed out to the surf.
"Whether you are catching fish or not," he said, "look where you are."
Farther up the beach, Bill Patterson, a longtime visitor, fished for striped bass. He also recalled the scene last weekend, when fishermen lined the shore and trucks were parked everywhere.
"Last weekend was the first few days that the bluefish were really here in numbers," he said. But with a cold front coming through and the wind changing to northeast, he said they were hardly biting.
Luckily, Mr. Patterson said, the beaches on Chappy face almost every direction.
"You've got all of East Beach, you've got inside the pond, you've got the Gut," he said, referring to the opening to Cape Pogue Bay to the north. "Now you've got Wasque."
"No matter which way the wind blows, you always can find somewhere to fish."
When the breach was open people often fished from the inside shore of Katama Bay, which was then open to the south. As of Wednesday, about 40 yards of new sand lay between the bay and the ocean.
"For all intents and purposes, Wasque Point was gone," Mr. Patterson recalled. "The rip was gone." But he said the rip was now appearing much as it had before 2007.
Another bass fisherman, a Chappy resident who identified himself as Jim, said the breach had been a mixed blessing. "We couldn't drive in from town on the beach," he said. But once the Chappy ferry stopped running for the day, Chappy residents had the beach to themselves. Since the closure, he said, bass fishing has been better, but not like it once was. "You've got to work hard to get a bass big enough to take home," he said. "The stocks are down as far as bass is concerned."
But for whatever reason, the bluefish have been biting.
On his way home Wednesday, Mr. Smith stopped by Coop's to replace a lure that had broken off in the surf and to catch up on the most recent gossip.
"That sand is like sugar this year," Mr. Gilkes said, after hearing Mr. Smith's account of getting stuck in the sand last week on East Beach. "That new sand is in there and everyone is chewing it all to hell," Mr. Gilkes said.
He said the drop in bluefish catches since last week could be the result of changes in wind direction, barometric pressure or temperature. "Could be anything," he said.
But business has still been booming as a result of restored access to the beach. "I've had guys walk in here and take 50 plugs off the wall," he said. The Trustees of Reservations have already restocked its permits twice this year.
"It's like the old times again," Mr. Gilkes said.