Edgartown selectmen agreed Monday to form a new committee to study options for mobile phone service on Chappaquiddick amid concern from residents that a cell tower will be built on the small island.
The selectmen's meeting room was full of Chappaquiddick residents, many of them voicing opposition to the board's decision two weeks ago to award a contract to Grain Communications of Sarasota, Fla., granting the company the right to build a mobile phone communications network on Chappaquiddick and sign up carriers to provide service. The contract was awarded following a public request for proposal (RFP) process, following state procurement regulations.
Town officials pointed out repeatedly Monday that the contract requires no specific network technology, but begins a public process of permitting and negotiation with ample opportunity for residents to be heard. A cell tower would require public hearings and a special permit from the planning board.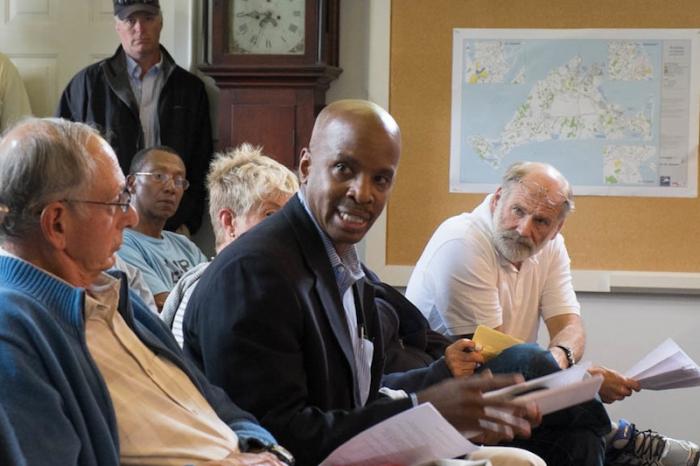 But some Chappaquiddick residents believe the contract will inevitably lead to a mobile phone tower on the small, remote island, against the wishes of many who live there.
Town information technology director Adam Darack read a statement at the beginning of the meeting. He said he has spent the last week reading e-mails sent to the board of selectmen, some of which accused town officials of favoring a mobile phone tower, a lack of transparency, and trying to deceive residents. He rebutted all the allegations.
"Life is not black and white," Mr. Darack said. "There are not always good guys and bad guys, and sometimes big tough problems present difficult solutions. This is not the wild west, and there is no snake oil being sold."
Roger Becker, a resident of Chappaquiddick and vocal opponent of a mobile phone tower, said the selectmen's decision caught many by surprise.
"Suddenly we have jumped to picking a particular proposal that is a tower, with no conversation with the public. I'd like to see a hearing to see whether the town is going to push, or allow, a tower on Chappy even against all this opposition," Mr. Becker said.
That prompted a sharp exchange between Mr. Becker and selectman Art Smadbeck.
"You're asking the wrong question," Mr. Smadbeck said. "The question is, do people on Chappaquiddick want cell service?"
"We all want cell service," Mr. Becker said.
"If that's the only way to get cell service, what you're saying is we would choose no cell service over having to have a tower," Mr. Smadbeck said.
"We're not saying that," Mr. Becker said.
"I'm sorry, that's exactly what I'm hearing," Mr. Smadbeck responded.
Two emergency medical technicians cited examples of people who suffered because they could not get to a land line phone to report serious injuries or medical emergencies.
The town awarded a contract to Grain Communications in June of 2012 to build a distributed antenna system (DAS) on Chappy, after more than a year of committee meetings and an RFP process involving residents. But the company abandoned the plan because no carriers would sign on to provide mobile service. Ken Louard, director of business development for Grain, said getting carriers to commit to service is the first step in the process, and if they don't, then the newest project will not go forward.
"We would never build a tower that sits there waiting for a carrier to come," Mr. Louard said at Monday's meeting.
Selectmen asked those interested in serving on a new committee to request appointment by the end of the week. Chairman Michael Donaroma suggested the committee should include Mr. Becker, Mr. Darack, and Trustees of the Reservations superintendent Chris Kennedy, as well as other stakeholders.
The board set a two-month time frame for the new committee to make recommendations.