Roof repairs have begun on the Island Theater, following a recent letter from the Oak Bluffs building inspector declaring the theater unsafe. Building inspector Mark Barbadoro ordered the Hall family, which owns the once-thriving theatre through a trust, to begin immediate repairs. Legal notices are posted on the structure at 1 Circuit avenue, warning people not to enter the premises.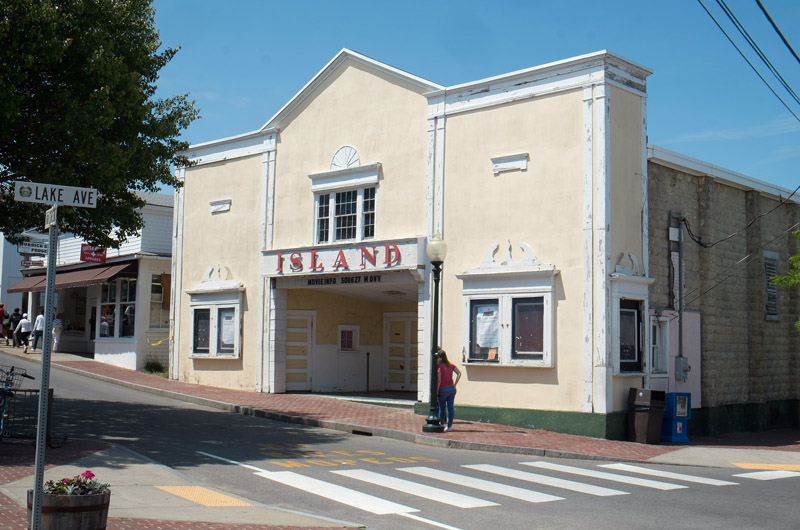 "The building is uninhabited, unused, open to the elements, and appears to be abandoned," building inspector Mark Barbadoro wrote in a letter addressed to Benjamin L. Hall Jr., an attorney who handles most legal matters for the Hall family properties, and hand delivered to Brian Hall.
Contacted by phone Wednesday morning, Mr. Hall declined comment.
Mr. Hall, a licensed contractor, is doing the repair work himself, under the direction of a qualified engineer according to Mr. Barbadoro. The building inspector said he is satisfied that repairs are progressing on roof trusses, which must be completed before a new roof is installed.
"He's moving forward at a pretty good clip," Mr. Barbadoro said Wednesday. "He estimated he needs three to four weeks."
The last film was shown at the Island Theater more than three years ago, and the iconic movie house has deteriorated to the point where the walls and roof might collapse and injure pedestrians, according the building inspector. The theatre has been the subject of numerous complaints to town officials, and the subject of enforcement actions since June 2014.
The building inspector said in his letter if repairs are not started immediately, he will take the steps required by state law to make a recommendation for disposition of the building. That could include repairing it to make it safe, or demolition of the structure. The town intends to assess a tax lien to recover any costs.
In the letter, dated June 3, Mr. Barbadoro described the theatre as unsafe, based on a Feb. 5 site visit.
"When we entered the Island Theater, it was unlit and I could see that most of the concrete masonry walls have broken free of the pilasters leaving many cracks, some as wide as a quarter of an inch thick through which I could see daylight," Mr. Barbadoro wrote in the letter to Mr. Hall. "At that time, I believed that the building was unsafe to enter and if the walls were hit by high enough winds, they could collapse and cause serious injury to pedestrians on the nearby sidewalk."
Mr. Barbadoro said he took the action because he was concerned that the owners of the building failed to carry out numerous promises to begin repair work.
According to town and state records, the building is owned by Seagate Inc., which lists Benjamin L. Hall of Edgartown as agent, and Charlotte I. Hall of Delray Beach, Fla., as president and treasurer.
The assessed valuation of the 4,413 square foot building is $59,000. The .13 acre lot it sits on is assessed at $763,900.