Amid a flurry of caps and gowns on Sunday afternoon, the Martha's Vineyard Regional High School class of 2015 graduated at the Trinity Park Tabernacle in Oak Bluffs surrounded by family, friends, and teachers.
After the class of 160 students filed into the Tabernacle while the band played Pomp and Circumstance, graduating senior and emcee Katherine Reid opened the ceremony with remarks about the relationships and uniqueness that defined the class, and how both have been nurtured along by the community around them.
"On behalf of the class of 2015, I thank you all," Katherine said. "Teachers, parents, and community members, for your steady support of our education."
After the Pledge of Allegiance and the national anthem, salutatorian Timothy Roberts took the stage. He noted his competitive nature, a factor that complicated his reaction to being told he was second in the class.
"When the guidance counselor told me I was salutatorian, my first thought was 'Can you recalculate my GPA?'" he said.
Timothy also gave a warning against living a life viewed only through numbers and grades. He encouraged his classmates to attempt to live with a B grade or two as they go on to college and beyond.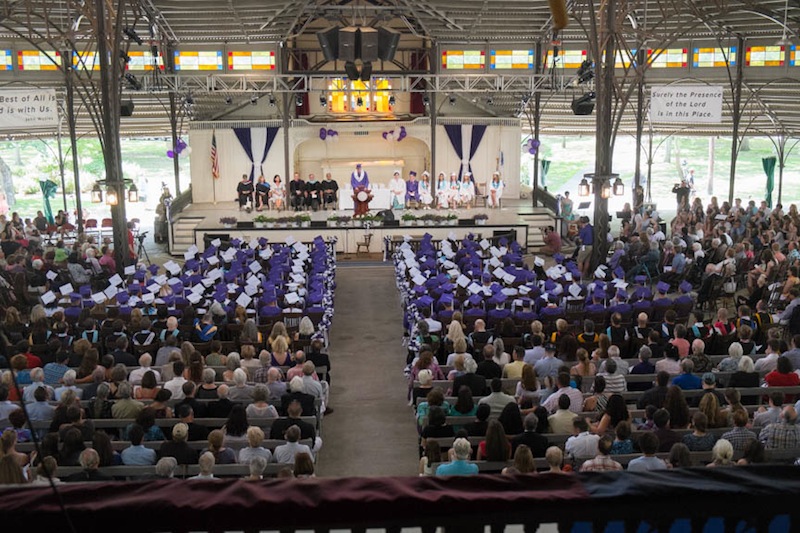 "Don't be just a Social Security number," he said in closing. "Do something that can't be measured by a simple nine-digit code."
Class essayist Charlotte Potter talked about the need to pursue meaning and be willing to do something important in the community. She cited her own yearly involvement with Martha's Vineyard Relay for Life, a fundraiser for cancer-related causes, as an example of how the power of community can make a change on the Island, and the inspiration one could take from that.
"Find a passion, ignite a lantern, and never let it burn out," she said, referencing the lanterns traditionally lit towards the conclusion of the annual Relay for Life event.
The Superintendent's Outstanding Student Award went to Samantha Potter, the class valedictorian, who is an all-star tennis player and participant in numerous extracurricular activities, including debate, model United Nations, and community service at a nursing home.
Retiring superintendent Dr. James H. Weiss presented the award to Samantha, and shared several tips that he had gleaned from an article in Time Magazine by Kristin van Ogtrop. Among the recommendations were to write a letter, learn to cook a good meal, and spend a weekend somewhere without a cell phone.
The combined chorus performed a rendition of A Gaelic Blessing arranged by John Rutter, and the senior song, Sing, arranged by Anthony Maiese. Thunderous applause met their performances as some parents shed tears during the final lyrics.
Mercedes Giambattista and Evan Kristal won Vineyarder Awards for their academic, extracurricular, and personal contributions to the community. Principal Gil Traverso presented the awards, along with the Principal's Leadership Award, which went to Katherine Reid for significant artistic, academic and athletic merit.
Class president Josie Iadicicco noted the diverse and talented student community at the high school, and reflected on the strong athletic record of the school's teams along with the successes of its literary publications and its theatrical productions. But she also took time to recognize that not everyone may feel like they truly did fit in during their time in high school. Still, she emphasized how the entire class together as one, as well as the individual members, had a tremendous impact on the community around them.
"Because of the [community's] support, we have accomplished so much as individuals," Josie said. "Nevertheless, we still share a common identity."
Class valedictorian Samantha Potter spoke about the importance of making a difference beyond a Facebook post or an Instagram picture, and the need to give back to the society that helped develop them. She cited a recent David Brooks article that looked at one's "resume virtues" versus "eulogy virtues," concluding that eulogy virtues, what one did and their impact, remain crucial to living a full life.
"To paraphrase Kennedy, don't ask what you need of society, but ask how you can improve it," Samantha said.
After further remarks by Mr. Traverso, who thanked the class of 2015 for welcoming him during his first year at the high school, diplomas were presented to the class as the purple-and-white-clad students proceeded one by one onto the stage. Cameras flashed and parents cheered wildly as each of the graduates' names were called out, despite instructions not to applaud until the end.
Once the diplomas had all been conferred, Mr. Traverso presented the class to the crowd, and a sea of graduation caps went flying into the air. The class of 2015 then dispersed from the Tabernacle, ready to begin the next chapter of their lives.