Two men were uninjured after the Jeep they were traveling in caught fire near the Big Bridge on Beach Road Friday afternoon.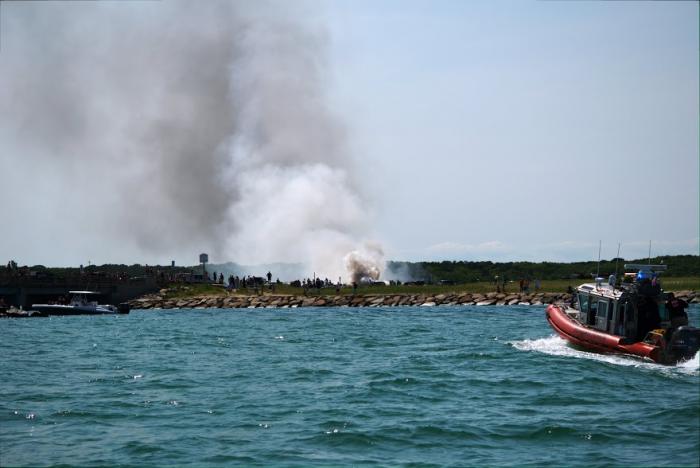 A 1996 Jeep Cherokee "caught fire between the muffler and the underside," said Charlie Tucy, the vehicle's owner. "There was smoke and we pulled off the road here and I emptied a whole fire extinguisher on it and it just kept burning."
Mr. Tucy and passenger Gary Murphy emerged from the vehicle unscathed, while onlookers gawked at the scene near the bridge.
The Oak Bluffs fire department received a series of emergency calls at around 3:30 p.m., and responded with three engine companies and a rescue, in time to prevent nearby vehicles from catching fire. "When we got here the car was fully engulfed in flames and three other vehicles were in danger of catching fire when we first pulled up," said Oak Bluffs fire chief John Rose. "It was a challenging location to get to though, because no one was yielding for our vehicles. There was a line of traffic that cars were turning out of so they wouldn't get stuck and they were literally blocking the fire truck,."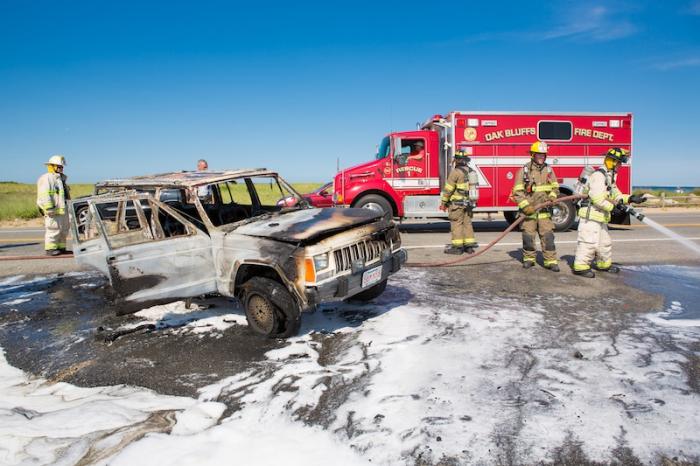 Though the response was delayed, the fire department used foam from its trucks to put out the fire in less than five minutes. "We were able to knock it down before it spread," said Chief Rose.
All that was saved of the vehicle was its frame and Mr. Tucy's time books. JWL transport towed the vehicle, and both lanes of traffic were open again by 4:07 p.m.
Before leaving the scene, Chief Rose asked a favor of Island residents and visitors. "If you see an emergency vehicle, it is trying to get to an emergency. Please yield to them and let them get to where they need to go," he said.