The forecast for an acute shortage of wind held mostly true, but in the grand tradition of the Vineyard Cup, the forecast for mostly fun, a high probability of good food, and a strong chance of evening music was spot on. The 10th annual regatta was a benefit for Sail Martha's Vineyard, the Island's non-profit community sailing and maritime heritage program.
"We got official races in every day, we're delighted with that," said Sail Martha's Vineyard director Brock Callen. "We finished up with about as perfect conditions as you could have, good solid southwesterlies up Vineyard Sound."
A total of 70 boats in seven divisions competed in the three-day event at three sailing venues across Martha's Vineyard.
New to the Vineyard Cup this year was the American Kiteboard Association-sanctioned Vineyard Challenge Foiling Kiteboard Championship. A total of 27 foiling kiteboarders competed for $10,000 in prize money in the event, staged off Bend in the Road Beach. Kiteboard foiling is a new adaptation of kiteboarding, where a underwater carbon fiber fin, shaped roughly like an airplane, lifts the kiteboard a foot or so above the water once the sailors gain speed. Foiling makes the board more maneuverable for around the buoys racing. Competitors from 10 states and four countries participated, according to Mr. Callen. "These were pros," he said.
Friday and Saturday, crews endured very light air. With the strong tidal current in Vineyard waters, it was sometimes a challenge to keep boats moving forward. Saturday's racing saw more than half of the mono-hull fleet record the dreaded DNF (Did Not Finish), because of light winds.
On Sunday, a more familiar southwesterly breeze began building in late morning, pushing the fleet around a 12.8 mile course from Vineyard Haven Harbor, over to a buoy near Woods Hole, back across the sound to a buoy at the western end of Middle Ground, and then back to West Chop on a shoal-dodging run close to shore.
Back for another appearance at the Vineyard Cup was the popular percussion-driven rock band Entrain, a group that has been based on the Island for nearly two decades.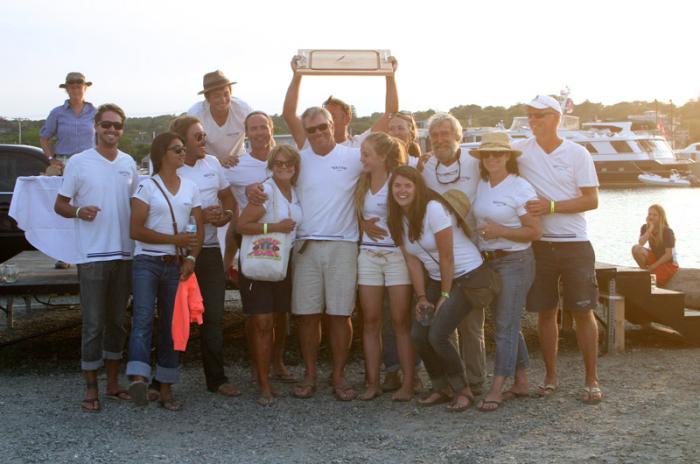 But new this year was a remarkable "farm to shore" party food movement.
"Every ounce of food was either planted and grown here, bred and raised here, or caught in local waters," Mr. Callen said. The menu for the post-race parties at the Tisbury Wharf Company dock included 260 pounds of local roast pig, 120 pounds of smoked swordfish, and 60 pounds of beef ribs. Also served were local oysters and clams, and fresh lettuce.
"It was a little mind-boggling how quickly it went," Mr. Callen said.
At the awards ceremony, a fair share of local sailors were called up for awards.
In non-spinnaker class 1, Robert Lurie skippered Mischief, an Alerion 26, to the overall victory with a win and two second place finishes in the three-race series, according to the race results.
Meander, an Alerion 28 captained by Richard and Joan White took second honors, and local veteran Roger Becker got third in his C&C 24 Gloria.
In non-spinnaker class 2 the overall winner was Ruse, a Swan 44 handled by Bill Marsh. Ruse notched two firsts and a third place finish for the win.
James Swent III was second in class 2 with Osprey, an Alerion 38. Paul Duffy guided Domino, a Cal 33, to a third place overall finish.
In the spinnaker class, Stephen Besse flew around the courses in Apres, a J/120 always near the top of the scoring list. Apres recorded two wins and a second in Vineyard Cup racing.
Tom Tetrault in Facet, a Bristol 355, was second. Mark Scheffer in his J/40 Legacy was third.
In the classic division, The Blue Peter owned by Matthew Barker of the United Kingdom took top honors. A strong contingent of local sailors helped sail the magnificent 65-foot wooden sloop to victory. The boat was launched in 1930, and has won many races over the years, sailing mainly in the Mediterranean Sea.
Local sailors rounded out the leader board in the classic division. Second was Jeffrey Robinson in the Alden schooner Phra Luang, last year's Moffett Cup winner. Another Alden schooner, Malabar, was third, handled by Jim Malabar.
Andrew Staniar was the top sailor in the catboat division, winning aboard Pandora. Skip Richheimer took second place with Zena, and John Stout was third in Isabella.
In the kite foilboard competition, Nico Landauer of San Diego, Calif. was the best in class, winning six of the eight heats in the competition to win the $4,000 first prize. Jon Modica of Tequesta, Fla. was second, and earned $2,600. Ty Reed, also of San Diego, was third and got $1,600 in prize money.
Seth Besse placed fifth overall, and Jamie Morgan was eighth overall, marking the best finishes among the local contingent of kite boarders.
Charlie Shipway and Dick Bluestein won the Herreshoff 12 1/2 division, and Dan Karnovsky won the Sunfish division, sailed on Menemsha Pond.
While still adding up the figures, Mr. Callen expects to see more money raised for the organization than in previous events.
"The real important thing is to give these folks a fun and affordable time, and raise money for Sail Martha's Vineyard," he said. "Because sponsors underwrite the whole event, every penny that a sailor spends drops right to the Sail Martha's Vineyard bottom line."