The Feast of the Holy Ghost parade stepped off from the Oak Bluffs Steamship Authority terminal on Sunday at 11:30 a.m. under a sweltering sun. It was led by four members of the American Legion and followed closely by nine members of the Oak Bluffs police department led by Chief Erik Blake.
The Baystate Band of New Bedford stepped lively as the crown of Isabella was carried forth by Mckensi Jackson, 8, and her court: Sofia McGroarty-Sampaio, 7; Delilah Oliver, 8; Emily Freeman, 8; Izabella Blake, 7; Kaio Pereira, 11 and Ian Neil Estrella, 8. Three cars followed, transporting elders and with people throwing candy and squirting water guns at unsuspecting spectators.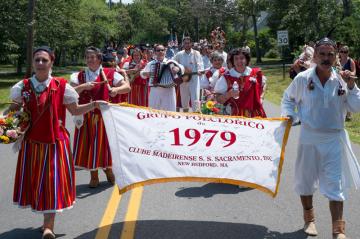 Grupo Folclorico do Clube Madeirense, traditional Portuguese dancers and musicians, marched along playing brinquinhos, an instrument made of wooden dolls in costumes with castanets attached to their backs. The instrument is played by moving the center reed vertically. Grupo Folclorico paused before Anita Combra's house to honor the 94-year-old matriarch who then played her brinquinho with them.
Following the musicians, the Oak Bluffs fire department entered the picture with sirens blasting from Engines 1, 522, 3, 4 Ladder 1, Rescue 1 and ambulances. Spectators waved, snapped pictures, scrambled for candy, clapped and plugged their ears as the procession passed.
Pausing before The Good Shepherd Parish, Father Augustine Bangalie spoke briefly as the Queen Isabella of Aragon and her court stood before him.
"[The parade] is excellent as always," said Father Bangalie, who has been participating in the festival for four years now. "It is beautiful and colorful."
The parade ended at the Holy Ghost Association building, where a carnival of food, entertainment, games and an auction awaited. The Feast of the Holy Ghost celebrates Queen Isabella of Aragon whose charitable spirit the Portuguese American Club try to emulate. The club raises money for various causes, and this year have given over $30,000 in scholarships.
As the day continued, the celebration heated up, paralleling the temperature. Though the women were clothed in wool, the Grupo Folclorico took no breaks. They even got the crowd off their seats to participate in a long conga line. Later, escaping the sun under a white tent, people sipped simmering sopa loaded with golden potatoes, savory sausages and tender cabbage. The chefs had made 250 gallons of the dish for Saturday evening and 250 gallons for Sunday afternoon. Young members of the Portuguese American Club kneaded dough while others played games and had their faces painted.
There was an auction with a variety of goods up for bid, and some walked away with an entire dinner by winning lobsters, quahaugs and Portuguese sweet bread. Mike Delis, a board member of the P.A. Club, served as the auctioneer.
"We take your money and give it back to the community," he said to the crowd. "That's what we're about."