Steamship Authority governors discussed assigning the new hybrid freight vessel Woods Hole to the Martha's Vineyard route, raised the possibility of keeping the freight ferry Governor in service, voted to increase freight and passenger service earlier in the spring, and approved changes in the special standby line for Island residents during a wide-ranging monthly meeting Tuesday morning in Vineyard Haven.
Following a presentation of progress on the construction of the new vessel, boat line general manager Wayne Lamson said his staff is working on summer schedules for next year, and must decide soon what route the Woods Hole will be assigned.
Complicating the decision is a change in the private Hy-Line ferry service. Hy-Line will discontinue its traditional ferry service between Hyannis and Nantucket, and add a new high-speed vessel to operate on that route. SSA staff are concerned that passengers who still want the less expensive traditional ferry service may dramatically increase demand for its boats that service that route. Assigning the new boat to the Nantucket route would increase vehicle and freight capacity to Nantucket.
"What we're leaning to, is assigning the [Woods Hole] to the Vineyard route this first year, and letting this other traffic play itself out on the Nantucket route to see how much additional capacity we would have to have," Mr. Lamson said.
In all the scenarios under consideration, traffic and freight capacity to the Vineyard would increase substantially. If the Woods Hole is assigned to the Nantucket route, one of the freight boats currently serving Martha's Vineyard would be replaced with the Nantucket, providing three full-service passenger boats making round trips from the Vineyard to Woods Hole. Currently, the Island Home and the Martha's Vineyard are the only regular full service boats on that route.
Carl Walker, director of maintenance and engineering, reported that there are some concerns, but the Woods Hole is on schedule for a spring 2016 launch. Parts of the vessel are under construction at shipyards in Alabama and Louisiana.
In a surprise development, Mr. Lamson raised the possibility of keeping the freight vessel Governor in service, rather than selling or scrapping the boat, as long planned.
Keeping the vessel in service after the Woods Hole arrives would allow the SSA to keep at least one freight boat in service all year, and have a back-up vessel for unexpected schedule interruptions.
"This will help us spread out repair work, hopefully eliminate overtime by not having such intense repair periods," Mr. Lamson said. "The crew, they love the boat, they think it works. On weekends when it's not carrying trucks, we fill it up with cars."
Mr. Lamson said keeping the Governor in service would require catching up with deferred maintenance this winter, at a cost roughly estimated at $1 million. A recent survey and evaluation estimated the value of the Governor, built in 1954 and refurbished several times, at $300,000.
"The engines we put in there are worth more than that," Mr. Lamson said. "If it's something the board wants us to pursue, possibly keeping the Governor for five or six years, this would be the time to do it."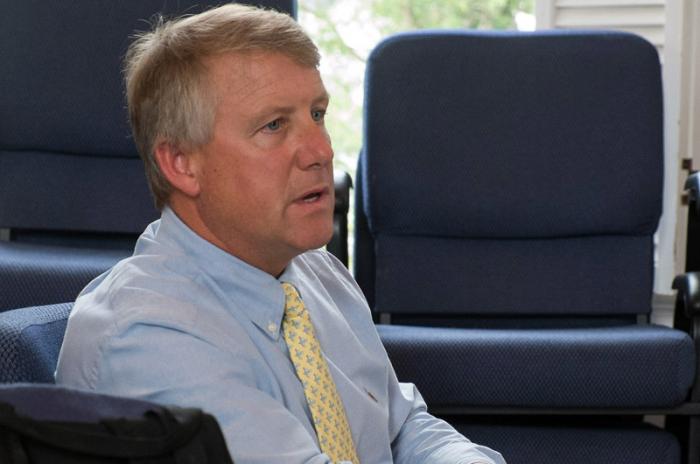 Board members asked Mr. Lamson to pursue the idea, and report back with cost of operation estimates.
"I think it's a great idea, but I would like to know what it's going to cost for the Governor to last a couple more years," said chairman and Vineyard governor Marc Hanover.
Also Tuesday, governors approved winter and spring schedules for 2016, which increase service earlier in the year.
Next year the winter schedule will end a month earlier, on March 15, instead of mid-April. Service levels will increase again on April 11, and the full summer schedule will begin on May 18, nine days before the Memorial Day weekend.
The boat line plans to increase staffing on one of the freight boats in mid-spring, allowing increased mid-week and weekend service a month earlier than in recent years.
The board also discussed allowing private ferry operator SeaStreak to begin service on a route from New Bedford to Nantucket, with a stop in Oak Bluffs, on Thursdays through Sundays during the peak summer period. The service would begin next summer. That would provide two additional late week trips per day from New Bedford to Oak Bluffs, which could relieve some of the pressure on the Woods Hole terminal.
Hy-Line currently provides service from Oak Bluffs to Nantucket, operating one round trip per day in the summer season. Hy-Line executives said they would also like to expand their inter-Island service, and would oppose another operator providing passenger service between Martha's Vineyard and Nantucket.
Additional service would require study by SSA staff and public hearings in each affected port. SSA general counsel Steven Sayers said his staff would work to design an equitable arrangement for both companies, and present recommendations at a later date.
The board also voted to make changes in the blue line, a standby line available to Island residents on holidays and summer weekends when the SSA requires reservations for vehicles. The changes are designed to make it easier for residents to fill empty spaces created by cancelled or missed reservations.
Instead of taking a limit of 15 vehicles per day, the SSA will now take a minimum of 15 vehicles per day, and more if possible. Lot attendants will hold five spaces for blue line standby vehicles to stage. Commercial vehicles are not allowed. Anyone with a reservation for a later ferry would have to forfeit it to get in the blue line. Space is not guaranteed, and any vehicle that does not get aboard the last boat is required to leave the SSA property, and is not guaranteed their same spot in line the next day.
The board approved the new regulations unanimously.
Traffic aboard SSA ferries increased significantly in May, the latest month in which statistics are available. Passenger traffic on the Martha's Vineyard route increased 11.8 per cent, and automobile traffic increased 4.1 per cent over the same time period last year.
For the first five months of the year, passenger traffic to the Island was up 2.4 per cent, while automobile and freight truck traffic was essentially flat.
The SSA budgeted $1.95 million for fuel for all of its vessels for the year to date, but has spent only just over $1 million because of lower fuel costs.
The SSA usually operates at a loss until July or August. Through May, the net operating loss is $9 million, but that is more than $2 million less than the ferry service projected to lose at this point in the year.