Coming off several weeks of international debate surrounding the Iranian nuclear accord, two experts—one for the agreement, one against—discussed the issue Thursday night at a forum hosted by the Martha's Vineyard Hebrew Center as part of their Summer Institute.
Former undersecretary of state Nick Burns and Ray Takeyh of the Council on Foreign Relations had both recently been called to testify before the House Foreign Affairs Committee, about the agreement brokered by the U.S. and an international coalition that would have Iran rein in its nuclear program in exchange for lifted economic sanctions. Both men had certainly heard plenty and thought lots about the deal before Thursday. Mr. Burns even joked that in Westport, where he and his wife live seasonally, he had heard more than his share of opinions from neighbors.
Both men started off the evening by giving their remarks on why the deal was or was not good for the United States and its allies. Mr. Takeyh, who opposed the deal, began by noting, "There are powerful arguments on both sides. This is not a slam-dunk for those who are for it or against it."
Nevertheless, Mr. Takeyh, a self-described Iranian hawk, outlined several problems he saw with the agreement, ranging from a sunset provision that puts an expiration date on its provisions, to its allowances for Iran to continue to upgrade its nuclear program on a limited scale for energy purposes.
"After about 15 years, Iran can do what it wants. And they could be like Japan," he said, using the example of another state that peacefully uses nuclear energy, "But they probably aren't a trustable custodian."
This, in conjunction with threats by high-ranking Iranian officials like foreign minster Mohammad Zarif to make small infractions that they assume won't be punished, led Mr. Takeyh to declare that the U.S. should go back to the negotiating table with a list of demands that include reconvening after 10 years to vote on continuing the agreement and preventing an upgrade of Iran's nuclear capabilities.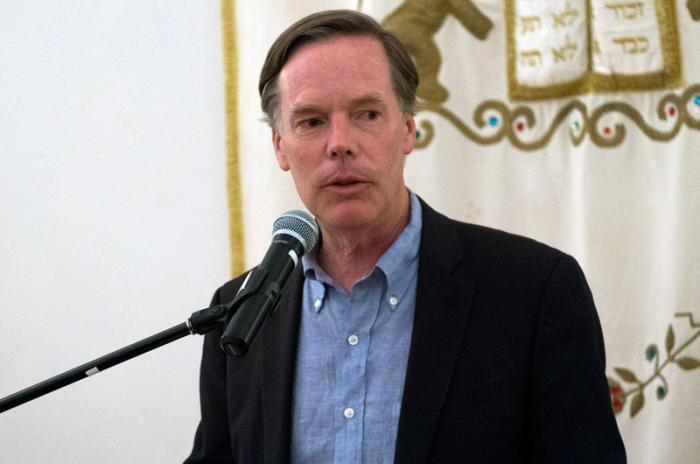 Mr. Burns, who supports the accord, also agreed that the deal is not perfect. "There are cruel tradeoffs and I thought long and hard about supporting it," he said.
But ultimately, Mr. Burns was persuaded by what he saw as a robust inspection regime as well as the lack of any other feasible alternatives.
"If you oppose this agreement, you have to have a credible alternative," he said. "And I haven't heard one."
Mr. Burns also noted the fragility of the coalition that had put sanctions on the Iranians to begin with, a group that included nations like Russia and China who are typically not amenable to U.S. interests. The sanctions, he pointed out, were what brought Iran to the negotiating table, and the flimsiness of that coalition prevented the United States from simply being able to leave the negotiations if they didn't get all of what they wanted.
"If we had walked out, I am confident we would've walked out alone," he said bluntly at one point.
But Mr. Takeyh and Mr. Burns did agree on one thing: the untrustworthiness of the Iranian government. Both men emphasized the need for accountability and vigilance in carrying out the accord, and taking advantage of all the powers that the inspection regime over Iran would be given, even as they disagreed over how solid the inspection regulations were to begin with.
"Given the Iranian record in the Middle East and on their nuclear program," said Mr. Burns, "There is no way to look at them other than with skepticism."
Both men said that the accord is an agreement, not a treaty, just like the vast majority of foreign policy decisions. This distinction is the reason that Congress can vote to stop it, but does not have to approve the accord for it to go into effect.
But beyond these agreements, the contrast was sharp. At one point, during the debate and question and answer session following their remarks, Mr. Takeyh criticized the notion of all accords like this one.
"Here's a dirty little secret about arms control agreements: they're not really enforceable," he said. "And neither is this one."
Mr. Burns shot back that the inspections program ensured that the U.S. would know if Iran violated the agreement's terms and would be in a position to be firm with the Iranian government. But he did acknowledge that President Obama needed to make his ultimatum clear to the Iranians.
"Iranians have to know that if they risk it, they'll be hit by any American president," he said.
Despite the differences in opinion between them, both speakers were quick to exalt the other's achievements, with Mr. Burns referring to Mr. Takeyh and his wife as some of the top authorities on Iran. Both embraced the fact that they were not falling into what they saw as the shrillness of some aspects of the ongoing debate around the deal. And both seemed determined to avoid the prospect of rushing into a war with Iran.
"It was Churchill who said, 'The problem with war is when you start, you don't now how and when it ends,'" Mr. Burns said.
As the event wound down and attendees headed out, the general mood was one of continued debate about the deal, not unsurprising given the complexity and depth of the arguments presented. Both men acknowledged as they concluded that it was easy to make a case for both sides.
This did not necessarily help to clear up the debate for some at the event. "I just don't know what to think!" shouted one attendee as she left the center.