Years ago, down a long driveway off Barnes Road there used to be a horse barn. Then, in the late 1990s thanks to the generosity of numerous people, the area was transformed into an arts center called Meetinghouse for the Arts. Early exhibits were held in old horse stalls. In 2002 the center was renamed Featherstone Center for the Arts and since then it has blossomed into a venue for arts of all kinds.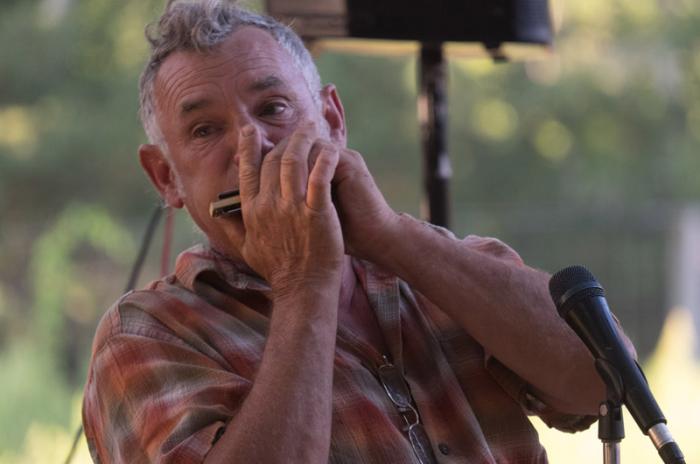 But on Monday nights it's all about the music.
This past Monday Johnny Hoy and the Bluefish embraced the outdoor stage as part of the ongoing Musical Mondays series. Families found places on the lawn, laying out blankets and passing around boxes of crackers and bottles of wine. To the left of the stage, under the oak trees, sunburned little girls danced while holding hands, their colored dresses flowing out to encircle them. To the right of the stage, a couple of kids moved to a different melody, organizing a pick-up baseball game.
Johnny Hoy and the Bluefish have been a band for 20 years. Getting their audience to dance is rewarding, but they also know how to tone it down, they said between songs.
The band's connection is clear. Johnny Hoy has lived on the Island since 1978, and in addition to working with his band, he is a stone mason, fisherman, farmer and antique dealer.
Pianist Jeremy Berlin has been a Bluefish since 1993, and has played duets with both President Clinton and Carly Simon. On guitar was Buck Shank, and on drums Chris Anzalone, who joined the band 15 years ago.
"Watching the very young and the elders dance with instinct and lack of affectation or self-consciousness is a real pleasure," Mr. Berlin said after the show.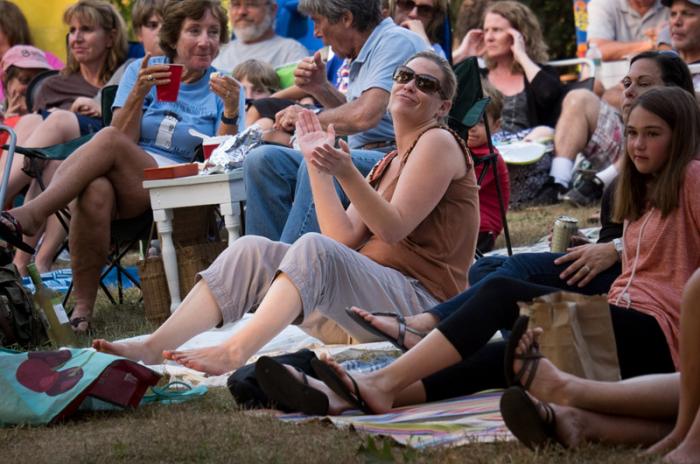 Johnny Hoy and the Bluefish have produced four albums, and at Featherstone they gave the high-spirited crowd a taste of their latest album, Film Noir Angel. They rocked songs such as Sally Sue Brown, Hip Shakin', Throw Down Your Hammer and many other favorites. Many in the crowd sang along.
"On a good night there is a wonderful mutual feeling that our efforts and the audience response work together to create a great deal of power," Mr. Berlin said.
Near the end of the night an older woman in a long gray dress got up from her blanket and took a little girl by the hand to dance. Nearby a little boy ran too fast, slipped and skinned his knee right in front of the stage. And through it all Johnny Hoy and his Bluefish played on as the hazy sunlight faded over the old horse pastures.