Peace activists gathered by the Gay Head Light yard at sunrise on Thursday in remembrance of the atomic bombing of Hiroshima and Nagasaki 70 years ago. Some were first timers at the vigil, for others it's an annual tradition. All shared personal reflections on peace.
Most shared words, others performed songs and dances. Sarah Nevin of the Martha's Vineyard Peace Council held a string of origami cranes that her mother had made with Hiroshima survivors.
"I was rehearsing at the beach yesterday, and now I will dance to each of you," she said. She addressed a community of peace supporters who stood together in a circle, as the sun rose and waves crashed on the Gay Head shore.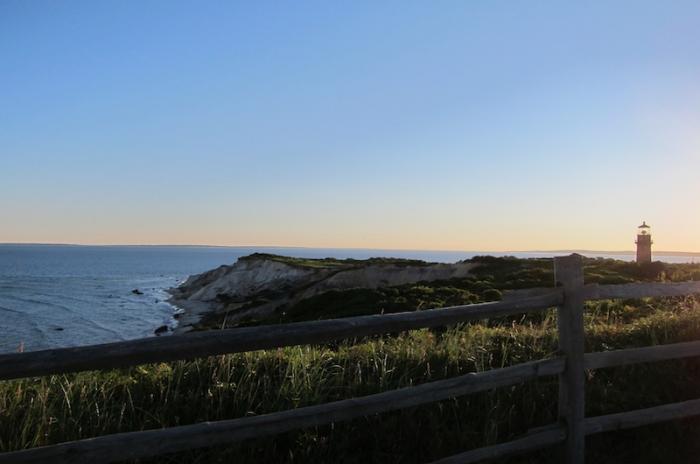 "This reminds me that 70 years ago today little babies, fathers, daughters, brothers, sisters, innocents and civilians lost their lives," said Reverend Chip Seadale. "I thought to myself today, how can we honor those babies, mothers, fathers and sisters who died 70 years ago today as a result of our inability to love each other as we should. Well, that's exactly what we are doing right now."
Bruce Nevin named ignorance as the force that drives violence, hatred and war.
"The great darkness that rings above things like the bombing of Hiroshima is ignorance. And the root of ignorance is to ignore," he said. As an antidote, he commented on the idyllic setting. "We stand here with the root of peace under our feet. With the breath of peace blowing through around us, the sky above us."
Rev. Alden Besse was in attendance too. "Let us continue steadfast doing what we can for peace," he said.
Sarah Sheldon held a tattered pillowcase from a 1985 peace flotilla to Noman's Land. Julie Coleman told the story of how she had slept in that morning when the ships set sail. "I am doing penance for missing the flotilla," she said.
Rebecca Gordon, a college professor who teaches ethics, shared her teaching philosophy with the group. "I try to teach that peace is not boring. Peace can be the greatest human adventure," she said.