Lots of things separate Martha's Vineyard from the regularities of mainland life — we have a sun that rises and sets over water, for instance. Pretty high up on that list of differences must also be the fact that for the last generation (or two) no group of folks has ever staged a more floridly dramatic, more lavishly orchestrated run of musicals on the Island than a summer camp stocked with performers who deal with a galaxy of disabilities – physical, mental and psychological.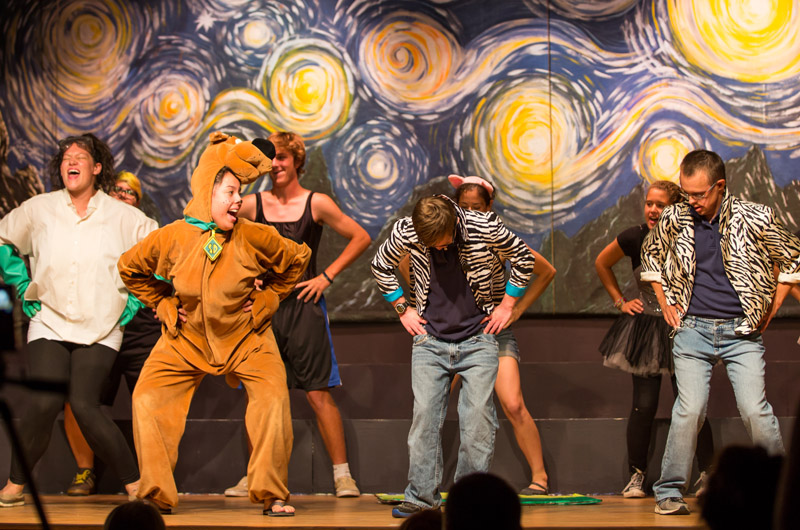 But that's what Camp Jabberwocky has been doing for the last 40 years or so. The Wizard of Oz, The Sound of Music, Snow White, Through the Looking Glass: Each of these great stories has been re-imagined through the prism of life at the camp, which has been in business on the Vineyard since 1953 and is widely regarded as the first sleepover summer camp for the disabled in North America. This bending of the theatrical light at Jabberwocky has produced the sort of shows that intellectuals might call Dada, theater historians might call travesties and Salvador Dali might have regarded as genius.
The whole purpose behind a camp musical is to celebrate eccentricities and confound expectations. Thus comes a set piece in just about every Jabberwocky show, the wheelchair dance, which sends campers racing around the stage in backwoods Vineyard Haven under the guidance of their counselor-dance partners, who help to make their charges look and feel gleefully if all too briefly weightless. Thus the performance last Saturday evening of Back to the Future, a reinterpretation of the 1985 movie that featured, willy-nilly, twin McFlys (Marty and Arty), a regiment of robots, Elvis Presley from the Vegas years as well as the Beatles from the Sullivan moment.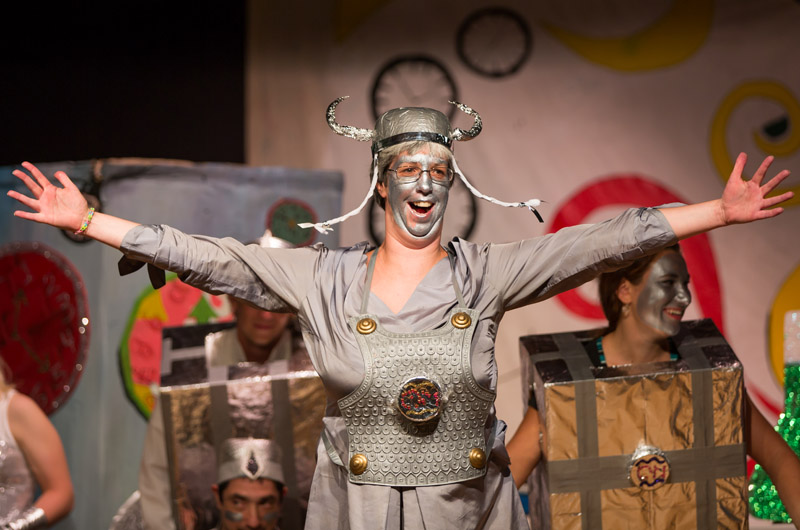 The camp is divided into July and August sessions, and some years ago campers and counselors rehearsed all month long in order to perfect timing as much as possible and – given the radical sensibilities that keep Jabberwocky humming along – introduce a zippy run of ironies that campers, counselors and visiting parents could all laugh over unreservedly, even if the wider public might have occasionally recoiled, aghast. ("Don't shoot, I'm unarmed!" was a punch line that once stopped a Jabberwocky show cold for a minute and a half.)
Nowadays there's less of that. The camp stages the musicals earlier in the sessions so that it can revel more freely and open-endedly in trips to the beach, or sailing on Mad Max, or performing drum concerts with Rick Bausman, or soaring on the Flying Horses carousel, always a Jabberwocky favorite. There's less punching back at the fates that have left one set of individuals perpetually dependent on another set. But on Saturday evening enough rules, expectations and especially limits were upended in Back to the Future to make it a thoroughly Jabberwockian production, right down to the final number, the Imagine Dragons hit It's Time, with its defiant, self-evident refrain, "Now don't you understand? I'm never changing who I am."
To see more photographs from the Camp Jabberwocky play visit And That's Entertainment