Not every book talk begins with a Buddhist chant and guided meditation. But that was the scene one evening last week at the Bunch of Grapes Bookstore, when Lama Surya Das, among the best known Buddhist authors in the country, spoke to a small group about his new book, Make Me One with Everything.
It's also true that not every book about spirituality begins with a joke, but as Lama Surya said, "We have to lighten up as well as enlighten up."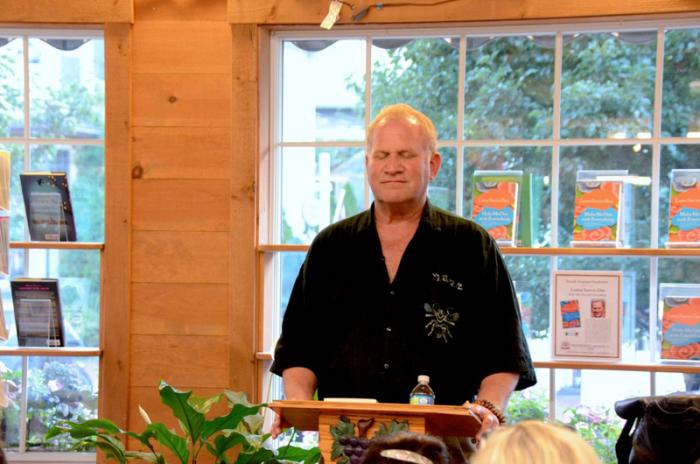 So, what did the Dalai Lama say to the hot dog vendor?
"Make me one with everything."
It's an old joke, Lama Surya admitted in his Brooklyn accent, but he took it a step further: After receiving his hotdog and paying the vendor, the Dalai Lama stands silently for a long moment. Finally, he says, "What, no change?" To which the vendor replies, "Change comes from within."
With Buddhist prayer beads wrapped around his hand, Lama Surya spoke casually but mindfully about oneness, the illusion of separateness, and the practice of co-meditation, which is the topic of his new book, released in May.
"Letting go means letting come and go," he said at the Wednesday evening event, inviting people to settle in for the talk. He spoke of the importance of seeing the oneness in every encounter — with friends, pets, natural elements like water and fire, and even oneself.
Co-meditation implies that inward-focused meditation — a popular practice in America — is just one type of meditation. "We can't just think about our own self-help," Lama Surya said, especially in a world that is increasingly interconnected. He advocated for bringing a practice to everyday activities and interactions."Nature does it for me," he said — and water in particular. He spoke of a different kind of meditation, where connection itself is the practice, rather than just concentration, or resting one's awareness on a specific object or sensation.
"Water meditates me," he said, describing the effects of a waterfall or a flowing stream. "It's ridiculous for me to close my eyes and try to concentrate and observe my breathing in front of that. All I have to do is relax and breathe out into it."
"That's co-meditation."
The sense of connection felt with a loved one or a teacher can be applied to all relationships, Lama Surya said, even the troubling ones.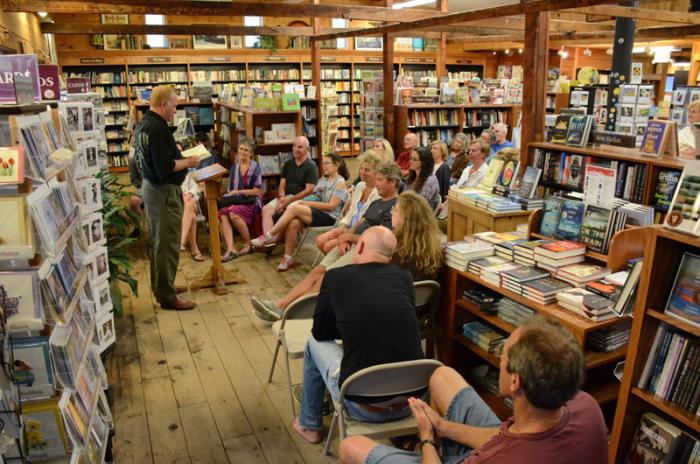 "The whole world is my body; consciousness my heart," he said, referencing the Tibetan verse that opens the book. He explained that emotions and sensations are just the ripples on the surface of existence. "We don't have to shut them off or suppress them. We don't have to orphan the shadow sides of our psyche."
As people browsed through the aisles of the bookstore, the author encouraged the small group gathered near the front window to befriend their difficult emotions and understand their oneness, even with their adversaries, through co-meditation.
He noted the current political cycle and the strong opinions it has engendered. But even people with opposite views are separated only by their past conditions, he said. Through meditation, "We start to see that we are them and they are us."
Throughout the talk, he returned to the theme of being with, rather than against, what is. "That's the secret of co-meditation," he said. "Not having to get away from things to experience wholeness and oneness and peace and harmony."
But he emphasized that co-meditation — a term he coined — is a practice, not just a belief.
Make Me One with Everything — the author's 14th book — includes several co-meditation practices, along with a list of ancient Tibetan slogans aimed at attitude transformation. Lama Surya's own spiritual lineage is in Tibetan Buddhism, which teaches, among other things, the importance of awareness in everyday life.
A question-and-answer period included topics ranging from how to experience connection when practicing alone ("What is alone?" Lama Surya asked) to how to improve relationships through acceptance and how to incorporate the idea of God into meditation. Most answers boiled down to the need to see through the illusion of separateness.
On the subject of vacation, Lama Surya saw the occasional getaway not necessarily as an escape but as an opportunity to connect with parts of the self that might be forgotten or pushed aside in everyday life. His own annual vacation on the Vineyard began after signing his last book at Bunch of Grapes.
One of his earlier books, which lay on the table as he signed copies of Make Me One With Everything, caught the eye of a visitor, who commented on the title. As she turned to leave, he held it out to her. She hesitated, saying she would feel guilty.
"Go ahead, guilt is good," Lama Surya said, and signed the book.