The theme was owls, and last Friday at Featherstone Center for the Arts, artistic renderings of the majestic winged creatures were everywhere you looked. Delicate origami owls were strung along the porch of the children's gallery. Paintings of owls in bold strokes of brown, cream and yellow were displayed on small easels. Even the cake — for this was the last day of the weekly children's art camp and a celebration — had a colorful owl imprinted on a vast canvas of vanilla buttercream frosting. It was a rendition of an owl Grace McDonnell had painted and signed.
"Grace loved owls, so that's why we chose this theme," explained Featherstone director Ann Smith as art camp children aged three to early teens sat in clusters on and around the porch, listening. "So these are in Grace's memory."
Grace Audrey McDonnell, a lifelong Vineyard visitor and aspiring young artist, died in Newtown, Conn. in December 2012 at the age of seven. This summer, thanks to a gift from her parents Chris and Lynn McDonnell, 10 scholarships helped pay for Island children to attend art camp at Featherstone.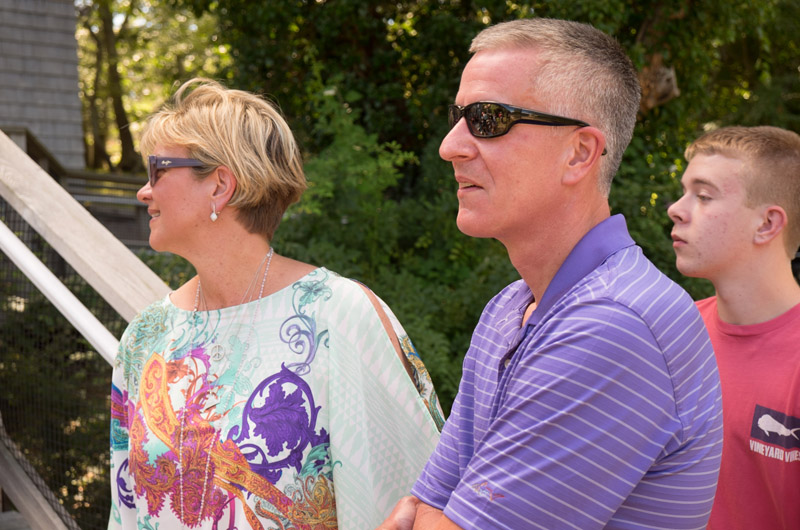 It marked the first gift from the Grace McDonnell Art Fund, based in Fairfield, Conn., Ms. Smith said. "We were honored and pleased that the McDonnells made this their very first gift," she said, speaking to the Gazette later about the scholarship fund. "It's a marvelous testament to the Island . . . . that this is where they want to create a legacy for Grace."
The Featherstone weekly summer art camp for children is small and fills up quickly each year. "We are trying to instill the love of art and creativity a the earliest age and pay it forward," Ms. Smith said. As for the scholarship fund, she said the McDonnells plan to make it an annual legacy. "We didn't need millions of dollars to make a difference," Ms. Smith said. "We have families in need, and this year 10 children who could otherwise not have been able to attend, were able to come to our camp. And we are so grateful for that."
Ms. Smith said the owl theme, like many projects at Featherstone, came about organically. "We thought a great way to talk about loving art was to remember Grace the angel, and make owls the central theme. Nature is part of our curriculum, so it was a lovely fit to be able incorporate Grace's memory into that. And it was a way to honor a child and a family that's been so dedicated to art education for children."
On Friday the day was hot and still, but it was cool in the dappled shade on the porch of the children's gallery. A few of the youngest camp children were in bathing suits, having just cooled off with some artistic water play on the lawn. The low-key celebration was attended by Chris and Lynn McDonnell and their son Jack; all had arrived on the Vineyard on an early morning ferry to begin their annual August vacation.
Every age group from the art camp in turn presented the McDonnells with gifts they had made. There were hugs all around, and a few tears.
"Our thanks to all of you," Mrs. McDonnell said. And then it was time for potato chips, cake and lemonade. "This is about as formal as we get here," Ms. Smith told the gathering.
And with so many wise owls looking on, another season of children's art camp at Featherstone came to an end.