Island culinary stars were aligned around a table at Forever Wild last week to celebrate the Moroccan cuisine of private chef Gia Winsryg-Ulmer. The dinner was conceived to introduce celebrated food historian and lifelong Martha's Vineyard summer resident Jessica Harris to Gia's cooking. Ms. Harris is the pre-eminent scholar and authority on African and African-American cuisines, so Moroccan food is one of her many fields of expertise.
Although the evening was a celebration of food, longstanding ties to Martha's Vineyard were a recurring theme. There were seven around the table, along with Gia's three month-old son Samir snuggled up on his mother's back. Aquinnah selectman Juli Vanderhoop, whose Orange Peel Bakery is a destination for all Island foodies, fascinated the group by demonstrating how she uses her arms and intuition to gauge when her outdoor oven, which has no thermostats, has reached the proper heat to bake bread. Marvin Jones, who had Oak Bluffs restaurants Marvin's Gardens and Lobster in the Bluffs, first cooked at the Edgartown Yacht Club in 1976. The Wild family was represented by Gia's sister, Cleo Winsryg-Wild, and Rebecca Wild Baxter, the daughter and sister of artist and beloved Island character, the late Michael Wild.
As hostess, this writer was pleased to introduce Jessica Harris to Gia and her cooking.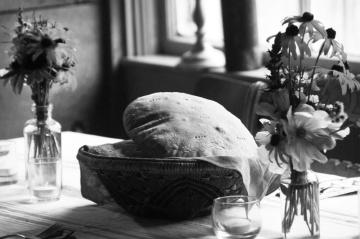 Ms. Winsryg-Ulmer describes her cooking style as "traditional Moroccan home cooking using local and seasonal ingredients in creative ways." The featured course was Couscous Royale, a meal traditionally served at celebrations, combining the fluffiest couscous with chicken (cooked with cinnamon), lamb, fried almonds, caramelized onions, chickpeas and Gia's Island touch — bright orange rose hips cooked in rose petal honey and rose water, substituting for the traditional raisins, figs, or fruit. Gia was inspired to use the rose hips from outside her door. "Moroccan food is, by definition, sustainable, local, and seasonal," she said. Gia credits the rich flavors of the meal to the freshness of her ingredients, picked the day before at Whippoorwill Farm.
Starter courses, served with fresh Moroccan no-knead bread, were a gazpacho-like tomato and roasted green pepper salad, and a pinwheel of perfectly seasoned cubes of potato, roasted beets and roasted carrots.
"One of the most appealing hallmarks of Moroccan cuisine is the contrast between the sweet and savory, raisins and crunchy fried almonds, with onions and meat," the chef said. She described Moroccan food as "sensual and subtle, exotic yet comforting, incorporating familiar spices and flavors such as cinnamon, nutmeg, cumin, turmeric, ginger, saffron, paprika — but in modest amounts and unfamiliar ways. And unless you are having couscous for special occasions, Moroccan food is all about the sauce."
Ms. Winsryg-Ulmer first learned to cook from her mother Marsha Winsryg, a much-admired chef, whose pancake mix was a popular Island Christmas gift. Gia fell in love with Moroccan cuisine while traveling in 2009. She met her future husband Rashid in the seaside town of Essaouira, and learned traditional Morroccan cooking from her new mother in law.
Along with cooking private dinners and teaching, Ms. Winsryg-Ulmer, a graduate of Brown, leads culinary tours of Morocco through her company Feast with Your Hands. The tour next spring is for women only, allowing them to experience a Morocco that might otherwise be inaccessible to tourists.
After dinner and traditional tea service, everyone walked down to Edgartown Great Pond, grateful and happy. Guest of honor Jessica Harris declared the meal, "Simply amazing . . . . the perfect conjoining of Martha's Vineyard and Morocco, down to the rose hips in the couscous."
Lauren Lowenthal is a screenwriter, lawyer and writing coach who lives in Edgartown and New York city.