A new science center will become a reality for the Martha's Vineyard Public Charter School next year, thanks to a large gift of money from a longtime Edgartown summer resident.
Robert Day has donated a total of $500,000 to the school, including $400,000 for the science center. That gift includes an initial donation of $200,000 and additional pledge of $200,000. Another $100,000 will go to the general support of the school. The gifts comes through the W.M. Keck Foundation, where Mr. Day is chief executive officer.
At a ceremony held on Labor Day, school leaders thanked Mr. Day and a plaque was unveiled honoring the contribution, which was made in honor of his close friend Vernon Jordan. Mr. Jordan, Mr. Day and friend James Baker, the former Secretary of State, were all on hand to inaugurate the new building.
Mr. Day has been friends with Mr. Jordan, a civil rights activist, Democratic adviser and longtime Island summer visitor, for more than 30 years.
"I really believe in this and if you like the Vineyard and you come here, you have to put something back," Mr. Day said at the ceremony Monday. "I'm very proud to be here."
Mr. Jordan echoed the sentiment.
"I'm so pleased about the generosity and sharing of my friend Robert Day," he said. "This is what Martha's Vineyard is all about. People think it's about going to the beach and going to parties. This is the essence of the Vineyard."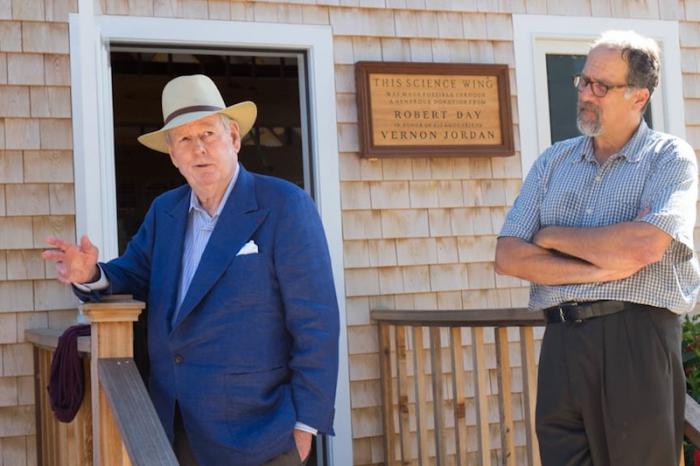 Mr. Jordan said the new science center will "stretch the students intellectually."
"It's going to be an addition to their discipline and that's a very good thing," he said.
Charter school director Robert Moore said Mr. Day's donation gives the school an important boost.
"We are proud of our past and looking for a vision for our future," he said. "We are energized to move forward in a new chapter in our school. Mr. Day is going to allow us to engage kids and young people in the study of science and technology at levels we have wanted to do for a long time. On behalf of this community, Mr. Day, thank you very much."
The building is unfinished, but next September it will include two science labs and science equipment for the entire school. The adjourning hallway, which is home to six classrooms, will also receive an upgrade.
The charter school is in its 20th year and serves 180 students on the Vineyard. The school received a $100,000 grant from the Massachusetts Life Center for science equipment and furniture in April 2014.
"It's a very big day for the charter school," said school development director Paul Karasik. "We made a new wonderful friend in Robert Day, thank you."
Steve Ewing, Edgartown poet laureate and husband of school founding member Claudia Ewing, read a poem to mark the occasion.