In a sail boat race like the Moffett Cup, held Saturday, the tiniest edge at the start in boat speed, sailing skill or tactics can be the margin of victory at the finish line. Skipper Stephen Besse in Apres, his J/120, was looking for that kind of an edge. He kept a sharp eye on the wind, what little there was of it, in Vineyard Haven Harbor just before the start. He saw the first class of boats in the staggered start cross the line, and watched one sailor who nailed the start, tacking off at a decent clip in exactly the direction where Mr. Besse thought the wind would be steadiest. The boat got out in front of the fleet, and then stopped almost dead in the water. No wind.
Ten minutes later, at the starting signal for the second class, Mr. Besse took the opposite tack, and when all the times were calculated and handicaps applied, he was the winner of the 38th Moffett Cup, sponsored by the Holmes Hole Sailing Association. A small edge in tactics helped him overcome a stifling handicap, to cross the line first, and score best on corrected time.
A total of 35 boats started the Moffett Race, and 24 finished within the time allotted in the sailing rules, on a day when the current sometimes moved faster than the wind.
Capturing second was Brian Roberts aboard Aileen, in what will likely be the last Holmes Hole race for the boat. Third was Elita, with Ross Gannon sailing the 45-foot wooden boat he built. Fourth was Phil Hale, sailing his quick J/100 Tango.
"We were very glad to be in the second group at the start," Mr. Besse said. "It showed us that option was not the way to go."
Competitors sailed, or in some cases drifted, the first part of the race in very light air, navigating toward the first mark, red nun #14 off Green Pond in Falmouth. A strong current pushed the fleet westward, making the rounding very tricky, as the fleet headed back.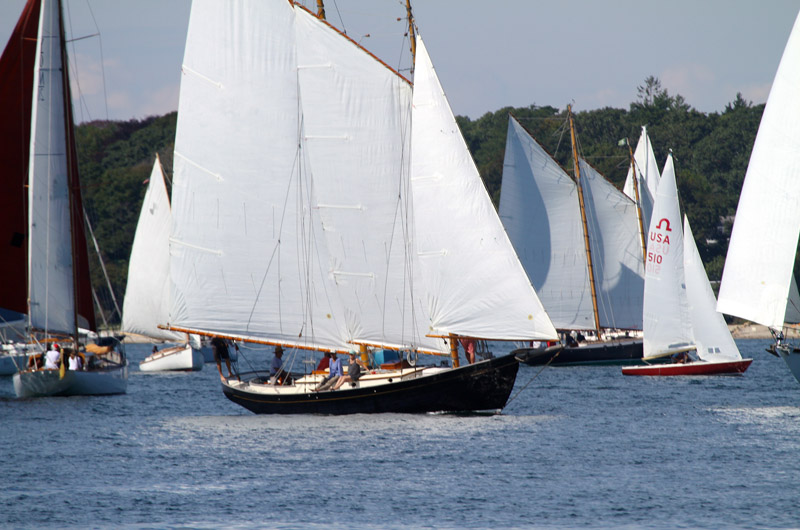 With the very light winds, the race committee decided to shorten the race in order to allow more boats to finish within the allotted time, slicing a bit less than two miles off the original 10.3 mile course.
About 2 p.m., a southeasterly breeze freshened, creating an odd dynamic. Some of the faster boats were pushed far from the finish line by the current. Some of the slower boats picked up the strengthening wind, and were able to sail a more direct course.
"It was a challenging day," said Holmes Hole commodore Jerry Goodale. "We all got fooled at one time or another."
Mr. Besse joins an elite sub-committee of the association. Only three others before him — Jeff Robinson, Harry Duane and Alan Wilson — have won the much sought after trophy twice. Mr. Besse won the race in 2009, his first year sailing Apres.