Usually, no one is surprised when Stephen Besse wins a boat race. But at the awards ceremony Saturday afternoon, many were astounded when Mr. Besse's J/120 Aprés was announced the winner of the George Moffett Race for the third consecutive year, and the fourth time in eight years.
The Moffett handicap rules are designed to prevent repeat winners, never mind "three-peat" winners.
Each year the Moffett winner is assigned a handicap penalty of 15 seconds per mile, so this year Mr. Besse bested the fleet while sailing under two handicaps, adding 30 seconds per mile to his final elapsed time of 3:04:15.
Chief handicapper Roger Becker also adjusted handicaps for the entire fleet this year, to give slower racers a fairer shot at winning.
Mr. Besse was genuinely chagrined to win the 40th edition of the Moffett. He said before the race that it wouldn't be good for the fun-focused event to have one boat win three years in a row, and predicted it wouldn't happen.
"I've been concerned, and Roger's been concerned that we're having the faster boats win more than they should, statistically speaking," Mr. Besse said. "It's been three light air years in a row, and I have the fastest boat in those conditions, that's really what it is."
Mr. Besse outsailed his double handicap with a skilled crew and knowledge of the Island waters, after the entire fleet was caught with no wind early in the race.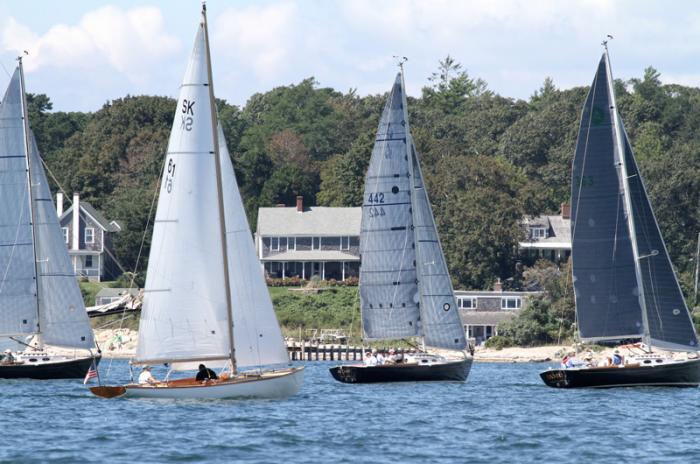 "We started with a northwest wind," he said. "It was very light. We got to the end of West Chop, and nobody had any wind. The current was going east. There's a back eddy, and I was able to ride that up, and got out just a little bit further, and it got me into a more favorable current. We managed to find the breeze first and slip ahead of everybody."
Brian Roberts sailed his Brenta 38 Starfish to a second place finish on corrected time. Alan Wilson, in his Stuart Knockabout Altius, was third.
Forty boats registered for the event. Twenty-six boats finished the race in the allotted time. Seven did not finish, and seven did not compete.
The Moffett Race is sponsored by the Holmes Hole Sailing Association.