Up at first light, three Vineyard birders met at the Martha's Vineyard Airport on Dec. 12 and climbed on board a "gas hawk" (a term used by birders who mistakenly identify distant airplanes as hawks). Flip Harrington, Lanny McDowell and I were bound for the other island, Nantucket, to attend a memorial service for Edith Andrews. The grand dame of birding on Nantucket, Edith had died one day after her 100th birthday.
Edith was an amazing woman. She was a bird watcher who had studied at Cornell University, renowned for its ornithology department. Her move to Nantucket in the 1930s was a perfect fit. She taught natural history at Maria Mitchell Association for 60 years, led Sunday morning bird walks, started a bird banding station, initiated the Nantucket Christmas Bird Count, co-authored The Birds of Nantucket with Ludlow Griscom in 1948, wrote Island Bird Sightings for The Inquirer and Mirror for many years and leaves an amazing collection of 1,500 bird specimens to the Maria Mitchell Association. As many have noted, for anything avian on Nantucket, Edith Andrews was there.
The memorial service was to be held at 11:30 a.m. and we arrived around 8:30 a.m. To celebrate Edith's passing we rented a car and headed to Surfside to look for sea ducks, gull species and any other birds. We fared well. Our best birds were three Iceland gulls, two lesser black-backed gulls, 15 black-legged kittiwakes, six long-tailed ducks and a whopping 20 harlequin ducks. Back in town we wandered around checking in on Nantucket's Christmas decorations and shops.
At 11:15 we entered the Second Congregational Meeting House. By 11:30 the meeting house was packed, standing room only. There were many familiar faces. Birders from the Cape, inland Massachusetts and further away.
Ginger Andrews, Edith's daughter gave the eulogy which, among other things, alluded to her mother's competitive streak. Dick Veit, Wayne Peterson and Simon Perkins spoke and praised Edith for her accomplishments but also added vignettes with examples of Edith's competitive nature. Ginger Andrews invited those gathered to speak. I couldn't resist.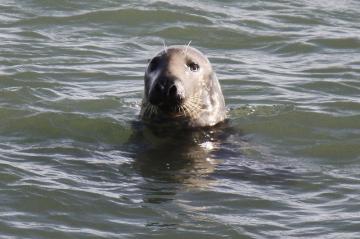 I rose and stated that I was from the other Island and that my relatives had been from the Vineyard for many generations. My grandfather never set foot on Nantucket and my father, so I heard, when re-routed to Nantucket on a flight from the Vineyard refused to get off the plane.
I added that 40 years ago I became the Vineyard's compiler for our Christmas Bird Count. I was trying to lure some hot shot birders to come help us with the count and also get to know our sister Island's CBC compiler. So one year after our count I called Edith Andrews and introduced myself and said we had just finished the Vineyard's Christmas Bird count and had seen 110 species. Edith immediately said, well we had 120, why don't you come over next year and see how it's done.
I accepted the invitation and broke the tradition of a Whiting not going to Nantucket. I met many birders from the Cape and elsewhere in Massachusetts and invited them to the Vineyard for our count. Many of these birders are still doing both the Nantucket and Vineyard Christmas Bird Counts. I also invited Edith to come to the Vineyard for a count and she came one year.
Edith Andrews will be missed by birders from both Islands as well as mainland Massachusetts and many of the rest of the United States.