One by one, the Edgartown library staff stood before a small podium Saturday morning, held up one of the library's nearly 50,000 items in circulation­ — a children's book, a computer keyboard, a music CD, an audio book, a movie — and spoke a few words about how they symbolized how the library has changed and adapted over more than a century of service.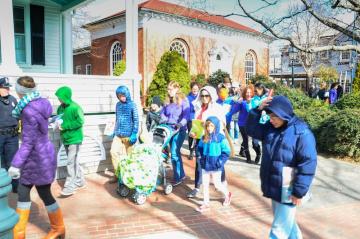 Library director Lisa Horton Sherman described the library on North Water street as a beacon of knowledge and light in the community, indicated by the tops of the windows, which are made to represent the sunrise.
"This morning we are holding up a few symbols of that light," Ms. Sherman said.
About 100 people gathered at the historic Carnegie building, which lent its last book Friday evening, to symbolically begin the move to the new Edgartown Library near the town's school.
Many grabbed a book from a rolling cart and began the trek through Edgartown streets.
A brisk walk later, they arrived at the new building, poured in the front door, and marveled at the enormous facility.
"It has that new library smell," said one patron.
"Look at all that natural light," said another.
Children's librarian Deborah MacInnis got right to work, putting some of the books carried through the streets onto new shelves and carefully assessing how they fit.
The rest of the collection will be moved over the next few weeks to prepare for the new library's opening.
"To see people in this building is amazing, instead of just shelves and furniture" Ms. Sherman said Saturday. "This is what we have been waiting for."