This week, Edgartown Library circulation supervisor, Elyce Bonnell, sat behind the circulation desk at the new Edgartown Library surveying the view.
"This is my world. This is my arena," she said.
But on Monday, March 21, that view will get a lot more crowded as the new library officially opens at 11 a.m. A little over a week ago library patrons helped carry books from the old Carnegie building to the new location next to the Edgartown school. Now those books, along with the 11 boxes delivered by CLAMS (Cape Libraries Automated Materials Sharing) have been shelved snuggly in their new homes. The staff is trying to adjust to their new spacious library before opening the doors to the public.
"We were in the old building for so long, the public was the only wild card. Now everything is a wildcard," Ms. Bonnell said.
In their old building, space was at a premium and all of the office supplies were kept at the circulation desk. Now they have storage space as well as employee desks.
"Realizing we can just have a few pens here at the circulation desk was huge," she said.
Deborah MacInnis, the children's librarian, worked in the basement of the old library for 39 years. Now the children's room has huge windows with light streaming in.
"This is really new to her," said Ms. Bonnell. And it's not just Mrs. MacInnis who has a lot to get used to.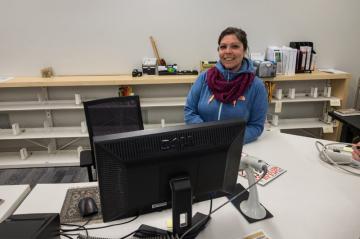 "It's crazy the amount of things to think about, things we didn't think about in the old place," Ms. Bonnell said. "There was a culture there created over 112 years. Now we have to rebuild that."
The library will have the same amount of books as the old one, but with considerably more shelf space.
"Now we don't have to cramp the shelves," said Ms. Bonnell. Small, private conference rooms will be available to reserve, a temperature controlled room will house the Martha's Vineyard collection, and the program room is able to accommodate 100 people, quadruple the amount the old one could accommodate.
Ms. Bonnell is especially excited about the proximity to the school, which she attended as a child.
"I have a brick from the old school at my desk," she said.
There will be an official opening ceremony later this summer, but as for Monday nothing special is planned.
"We've been known to always have goodies out for patrons," said Ms. Bonnell. "And a lot of the staff likes to bake."