A leading Danish wind energy developer has actively begun planning for a large wind farm south of the Vineyard that could power up to half a million homes in the commonwealth.
Permitting for the multi-billion dollar project is still in the early stages, but already Dong Energy is working to make inroads in the region. Five representatives from Bay State Wind, a Dong subsidiary based in Boston, spent three days on the Vineyard this week for a publicity tour that included meetings with business leaders, government and conservation groups and Island media.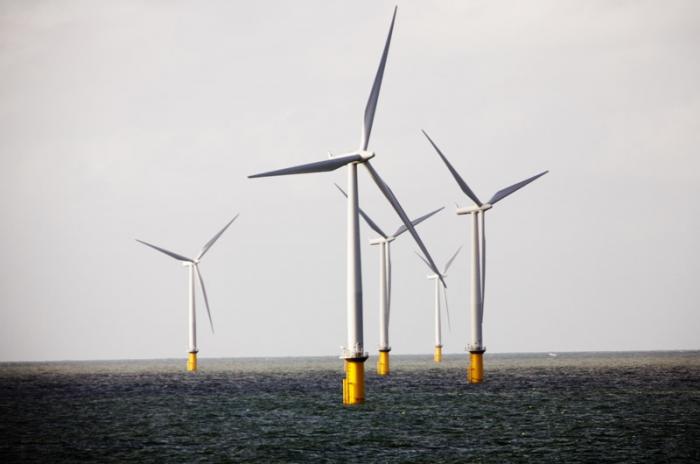 Dong has been moving away from oil and gas toward renewable energy, and now hopes to take advantage of what it sees as ideal conditions in the Northeast, company leaders said. Projects off the Massachusetts and New Jersey coasts would mark its entry into the U.S. wind energy market.
In April 2015 Dong acquired a federal lease for 187, 500 acres 15 miles south of Martha's Vineyard. The company took over a lease from RES America Development Inc., which paid $281,285 to the federal Bureau of Ocean Energy Management (BOEM). The entire federal wind energy area covers more than 1,000 square miles. The Vineyard is the closest landfall.
The company had a cool reception early this year when a Dong representative met with fishermen and others to begin planning for an initial survey of the sea floor. Public meetings this week in Chilmark and Aquinnah revealed similar concerns, including how the project would affect commercial fishing, but also brought new information to the table.
Dong leaders also met with the Martha's Vineyard Chamber of Commerce, the Martha's Vineyard Commission, Vineyard Conservation Society, the Island Rotary Club and members of the press.
"We really want to engage with people," said Thomas Brostrom, company general manager for North America, in a conversation with the Gazette Wednesday afternoon. "That's the lesson we have learned from 25 years of experience with offshore wind in Europe."
The company has built 14 offshore wind farms in northern Europe, including the world's largest, in the Thames Estuary in 2013. Sixteen other projects are in planning or under construction in Europe.
But the U.S. ventures mark a new phase.
"To come across the pond, if you will, where we've been very much focused on northwestern Europe, is big step for us," Mr. Brostrom said, adding that the federal wind energy area beginning about 15 miles south of the Vineyard had world-class wind and was suitable for turbines. "This is a fantastic spot," he said.
He said company wind farm plans coincide with the anticipated closure of several power plants in the region, including the Pilgrim Nuclear power plant in Plymouth and the coal-fired Brayton Point in Somerset, which will create demand and could open the door to a more diversified energy mix.
"The advantage of having an offshore wind farm here is of course you are very close to the load," Mr. Brostrom said. "That's one of the huge benefits we've seen."
The company is considering a handful of sites where the cables might come ashore, including the Vineyard. The larger port of New Bedford would be a more likely candidate, he said, but as the wind farm's closest neighbor, the Vineyard could still benefit from increased business during construction.
Bay State Wind consultation manager Carolyn Heeps said commercial fishermen could benefit by helping transport workers to and from the site. "In the U.K. they've become very well organized in terms of having all the vessels available for different activities," she said. Among other things, the company plans to appoint a liaison to engage the local fishing community.
In Chilmark, fishermen have questioned whether wind energy and commercial fishing can coexist. At a meeting in February with Dong representative Andy Revill, they rejected efforts to conduct an initial survey in March. The company has put the survey on hold, but remains determined to complete it this year.
Several commercial fishermen attended the meeting in Chilmark on Tuesday. Concerns focused largely on underground export cables, and whether they would interfere with bottom trawling. That had also been a concern for Cape Wind, a smaller wind farm planned for Horseshoe Shoal that was halted last year when it failed to meet a funding deadline and two key investors pulled out.
Warren Doty, a Chilmark selectman and member of the Martha's Vineyard Fishermen's Preservation Trust, questioned the ability of the export cables to stay buried during storms. Pernille Hermansen, another Dong representative, said the concern was mutual. "We have no interest in them being exposed either," she said.
Dong spokesmen said fishing has continued around wind farms in the U.K., and Mr. Brostrom said the turbines may attract marine life. Turbines would be spaced about three quarters of a mile apart, with a safety zone around each one.
A meeting at the Old Town Hall in Aquinnah on Wednesday focused on the project's long-term environmental and economic impacts.
Responding to concerns about migrating whales, Ms. Hermansen said the company is working on a report about marine mammals that would be finished this year. BOEM, which regulates offshore wind projects in the U.S., has conducted an environmental assessment in advance of the initial surveys, but each developer must also complete its own site assessment.
Some worried that the project could open the door to additional natural gas operations, since wind power is thought to rely on fossil fuels and nuclear power to stabilize the overall energy load. But Dong spokesmen said those views are somewhat outdated.
"It's very predictable," Mr. Brostrom said, noting that power output from the turbines could easily be ramped up or down. "There are days once or twice a year when the wind is so strong it can actually meet 100 per cent of the demand."
But Liz Witham, an Aquinnah filmmaker who has studied renewable energy, maintained that coal and nuclear are necessary to provide baseload power. She also questioned the company's assertion that electricity prices would go down as a result of the wind farm. In response, Mr. Brostrøm noted that Denmark gets 40 to 50 per cent of its energy from wind, and has among the lowest energy prices in Europe.
"Once you have invested into an offshore wind farm, the wind is free," he said.
Few actual details are known yet about the project, including how many turbines will be built and how much it will cost; first detailed survey work at the site must be completed. But Mr. Brostrom offered estimates ranging from 40 to 100 turbines in a 300-square-mile area. The northern edge of the array would be visible on clear days. The Bureau of Ocean and Energy Management will require lights atop the turbines that could be seen at night.
Dong will be a business competitor with Vineyard Power, the Island-owned energy cooperative which has partnered with developer OffshoreMW to lease another wind energy area south of the Island. Vineyard Power president Richard Andre, who attended both public meetings this week, agreed that wind energy would drive down energy costs over time. "You basically have fixed prices for 20 years," he said.
The Vineyard Power project includes a community benefits agreement that would keep jobs and services on the Island. But Mr. Brostrøm was confident that his project would also benefit the Island economy. He said he anticipates up to 1,000 temporary jobs during construction, and 100 long-term jobs during the life of the project.
Island fishermen remain leery of the proposal. David White, an advocate for the Island fishermen's trust, called attention to the small-scale nature of the Island industry, which has struggled to stay afloat in the face of regulations and competition from the mainland. The trust is working to set up a permit bank and other initiatives to support Island fishermen.
"We are trying to perpetuate this," Mr. White said of the industry. He has proposed a multi-year contribution from Dong Energy to support the trust's efforts. Mr. Brostrøm said he was open to the idea, but that it is too soon for an agreement.
"It's not new to us," he told the Gazette. "It sounded quite reasonable and sensible, but we want to understand better."