An excavation in Oak Bluffs late last week dug up a bit of history from the pre-electricity era on the Island. Contractors clearing a lot on Uncas avenue discovered, to their surprise, a series of long barrel-shaped tanks buried underground.
Though no one is sure, the best guess is the tanks were used to store or manufacture volatile gas, to keep the town's gas street lights burning bright. Another possibility is the tanks were used to store gas which powered an electric generator, used for street lights and nearby homes.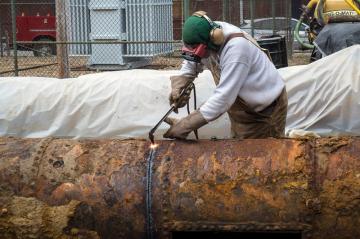 The first electric street lights switched on in 1887, according to historical records, but it wasn't until the turn of the century that gas street lights fell out of favor.
Records show that a gas company was located in the area where the tanks were unearthed last Friday. A Gazette story from 1886 reports the inauguration of the Cottage City Gas Company on Uncas avenue. There was a factory that produced "water gas," a synthetic, flammable gas for light or heating. The gas was manufactured by passing steam at high pressure through burning coal.
Oak Bluffs fire chief John Rose and building inspector Mark Barbadoro visited the site to monitor the excavation.
"It was really interesting," Chief Rose said. "I had never seen tanks like that, they were long tubular type tanks."
Mr. Barbadoro said one tank was partially filled with water, with a small amount of some petroleum product floating on top.
"They pump them out properly. These guys are trained and licensed to remove them. The only problem is if the tanks are so rotted, they leak," he said.
Chief Rose said no hazardous material leaked into the ground during the excavation.