Nearly every seat in the Martha's Vineyard Performing Arts Center was filled for the Island Community Chorus's final free performance of the Brahms Requiem Sunday afternoon. The audience was a Vineyard mix of seniors, younger folks and families. One dad shepherded three little kids into the third row center where they could get a good look at the stage and all it contained.
There was a lot to see. Although Brahms orchestrated his 1868 masterwork with a smaller-than-usual number of instruments, more than 30 musicians were still needed for the Island Community Chorus production, which premiered Saturday night in celebration of the group's 20th season. From two harps at the audience's left to a pair of kettledrums on the right, with conductor Peter Boak's podium front and center, nearly every inch of stage was taken up by instruments, music stands and many, many chairs.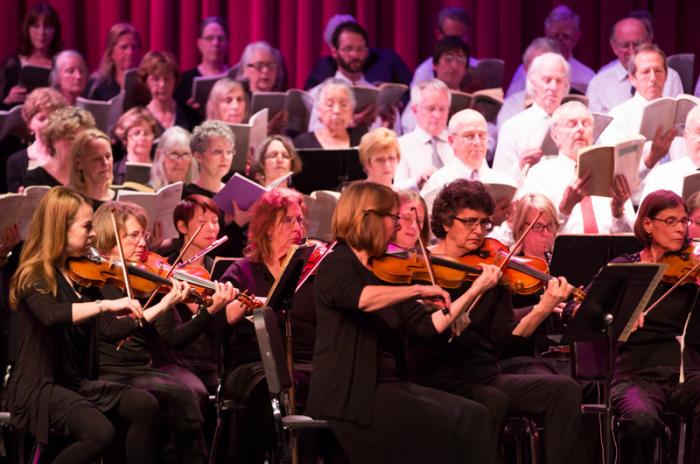 More than 110 of those chairs were for the singers, who barely got to sit at all. Brahms's Requiem has no down time for choristers. Even in the movements featuring soloists (baritone Michael Prichard and soprano Molly Conole), the chorale is still singing much of the time — answering, supporting and even interrupting the solo voices. The entire piece takes well over an hour to perform, with no intermission.
Under Mr. Boak's baton, and with an English-language score, chorale and orchestra together scaled the commanding heights of Brahms's powerful work with no hint of strain. Mr. Prichard and Ms. Conole sang with the group in between their solos, adding to the luster of massed voices. A visitor would never have guessed that the Island Community Chorus holds no auditions and accepts anyone who wants to sing. This Requiem more than held its own, and Sunday's audience leapt to its feet for an ovation when it was over.
Most of the instrumental musicians were off-Island professionals who stayed in choristers' homes during the concert weekend. Islanders in the orchestra included timpanist Brian Weiland, bassist Michael Tinus, violinist Susan McGhee and cellist Stephen McGhee.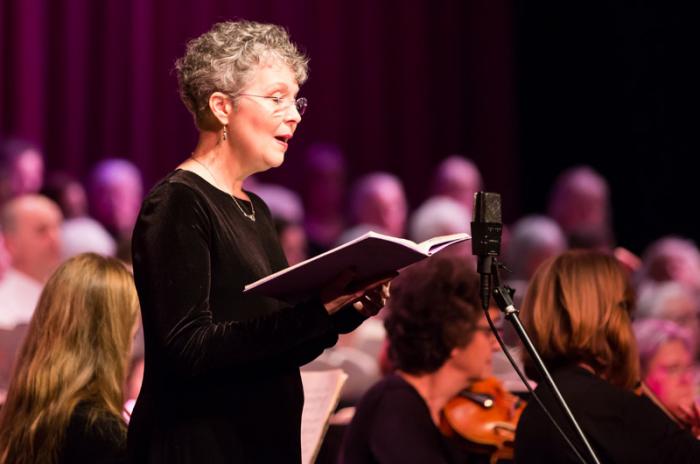 Longtime chorus accompanist L. Garrett Brown, who works with the singers in rehearsals and most concerts, had to sit this one out. The two harps Brahms scored leave no room for piano.
Audience members who arrived early for the Brahms concerts heard an introduction by musicologist Laura Stanfield Prichard, the baritone soloist's wife and a professional pre-concert speaker for Boston Baroque, Boston Opera Collaborative, the Berkshire Choral Festival and the San Francisco and Chicago Symphonies.
A Requiem is traditionally a Latin Mass for the dead, she explained, but the one Brahms wrote is neither Catholic, liturgical nor mournful. It's not even in Latin. The composer used his native language and the Lutheran Bible of his faith to create a somber yet hopeful testament for the living, with texts such as "For death shall be swallowed in victory!"
A century and a half later, his work remains one of the most celebrated and challenging in the choral-orchestra repertoire — and the Island Community Chorus nailed it.
For more pictures visit Community Chorus Embraces Brahms Requiem.
The Island Community Chorus performs its next concert July 4 at the Tabernacle in Oak Bluffs, followed in December by a pair of holiday programs at the Old Whaling Church in Edgartown. For more information visit islandcommunitychorus.com