The parking lot at Duarte's Pond off Lambert's Cove Road was busy Tuesday morning. There were trucks and people milling about in the rain, some with nets, others warming their hands on their coffee cups. There were also 400 trout in two big tanks perched on the back of a pickup truck. The trout had just made the commute from Barnstable that morning and were headed into the pond in preparation for the annual Martha's Vineyard Rod and Gun Club Kids' Trout Tournament this coming Saturday, May 7.
Another 400 trout — a mix of rainbow, brook, brown and even a few tiger trout — will make the journey on Wednesday.
The trout were supplied by Blue Stream Aquaculture, now owned by Keith Wilda and his wife Reagan who bought the hatchery six months ago.
"The Steamship was great," Mr. Wilda said of the crossing. "They let me park by an outlet so I could keep the tanks filtering."
Mr. Wilda has backup batteries for the holding tanks but if they fail the fish die and a whole lot of kids would be disappointed come Saturday. That many trout in tight quarters need a lot of aeration for survival.
Mr. Wilda works both sides of the Sound, so to speak. In addition to owning the hatchery on the Cape he is the farm manager of Thimble Farm on the Vineyard. Two of his coworkers at the farm, Matthew Brown and Alex Parris, were out in the rain on Tuesday helping to transfer the fish from the truck into the pond, one net at a time.
Fisherman and taxidermist Janet Messineo was there too, as both an excited observer and then an enlisted helper carrying a few full nets of wriggling trout to the pond's edge and then watching them disappear into the dark waters. The fish generally run 10 to 14 inches, with a few larger ones tossed into the mix too. Ray Long reached down to grab a wriggling rainbow trout, a real beauty, that had leaped out of the net and landed on the pier.
And like a proud father, Cooper A. Gilkes 3rd watched over the proceedings as he has for the entire 42 years of the tournament's existence. Mr. Gilkes and a few fishermen friends came up with the idea back in 1975.
"I remember it like it was yesterday," Mr. Gilkes said. "We were at Lawry's Fish Market when we decided to do it."
At the time, Mr. Gilkes had recently moved to the Vineyard from New Hampshire where he had organized a kids' tournament. He expected this one to be similar, a relatively quiet affair that a small group of kids enjoyed.
"But it caught on fast," he said.
About 80 kids attended that first year. Now nearly every Island kid 14 or under will be camped out at Duarte's Pond this Saturday. The first derby took place at Mill Pond, which it outgrew in just a few years, Mr. Gilkes said. They fished Sengekontacket for a bit before anchoring down at Duarte's Pond.
Mr. Gilkes and his squad will get there on Saturday morning at about 3 a.m. Some kids and their parents will already be there waiting, having picked their prime spots around the pond.
"First light is key," Mr. Gilkes said. "That's when the fish feed."
And what do they like to eat? The question was posed to Mr. Wilda. After all, he has fed these very fish for the past six months. In fact, his hatchery is currently home to 62,536 hungry trout, he said. When asked how he came up with such a precise number he said "you count the eyes and divide by two. It's foolproof." Later he admitted that the numbers are calculated by water displacement tests, and the results are accurate within a five per cent range.
But back to what the fish like to eat.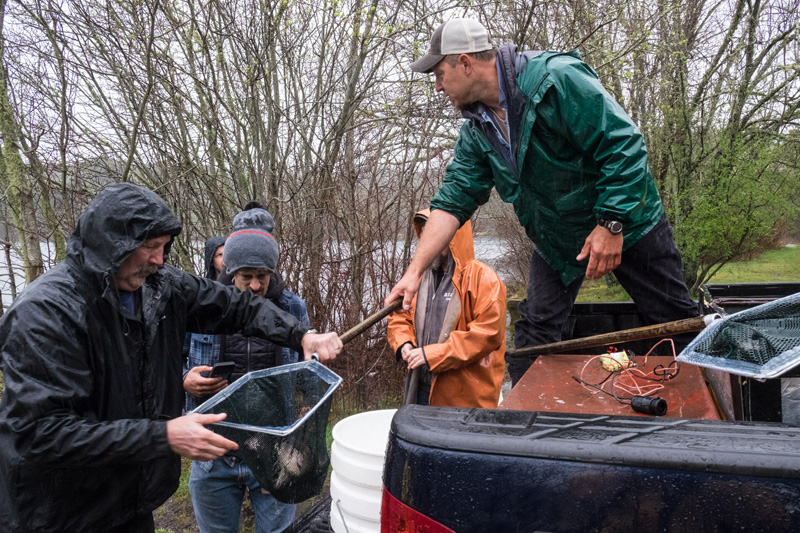 "Anything yellow," Mr. Wilda said, adding that corn is not allowed, though, as the trout can't digest it. "Yellow Powerbait wrapped in food is great. And they like to eat on the surface."
"Shallow leads on those bobbers," Mr. Parris said. An Island kid, Mr. Parris fished this same derby for years.
"I miss the derby," he said, while walking another netful of trout to the water's edge. He watched them swim beneath the surface and then took a long look around the pond. "Why do you have to be a kid to do it?" he wondered out loud, and then smiled and shook his head. At age 27, he is out of the running.
The derby takes place rain or shine, and begins at first light when Mr. Gilkes blows the air horn to announce that the casting can begin.
"Make sure you have rain gear," Mr. Gilkes said, adding a few more details about how to make it a pleasant experience for both parent and child. "Give the kids about an hour," he said. "Then they might get tired of it and want to run around. That's fine. The important thing is to make it fun for the kids."
And the lure of the day is not just the fish.
"It's one of the few times a kid gets to have a hot dog for breakfast," Mr. Gilkes said.