With festive bunting adorning her brand new decks, Steamship Authority ferry Woods Hole sailed into Vineyard Haven Monday afternoon for her ceremonial first voyage to Martha's Vineyard.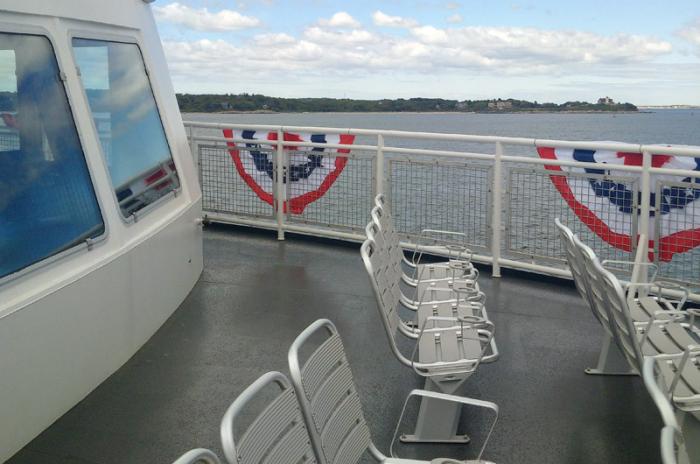 The ferry docked at Vineyard Haven just after 3 p.m., a few hours after an official commissioning ceremony before a crowd of about 200 people at the SSA dock in Woods Hole.
The Woods Hole was then opened to visitors from 3 to 4:30 p.m.
U.S. Rep. Bill Keating, state Rep. Tim Madden, Vineyard selectmen and county commissioners, assorted media, Coast Guard officials and members of the Steamship Authority board were among those on hand for the ceremony on a cloudy, mild late spring day. The ceremony started with a moment of silence for the 50 people killed in the Orlando nightclub shooting Sunday.
The Massachusetts Maritime Academy color guard posted the colors. The Rev. Deborah Warner from the Church of Messiah in Woods Hole offered an invocation, and Steamship Authority board of governors chairman Elizabeth Gladfelter offered remarks and read the orders of commission for the new vessel.
Boat line general manager Wayne Lamson asked captains to "set the first watch," the first official act of the ferry in service.
"I instruct the captains of the M/V Woods Hole, to set their watches, and bring the vessel to life," Mr. Lamson said.
After a slight communication delay, the captain gave an extended blast of the ship's vintage steam whistle to the applause of the crowd.
The 235-foot vessel is called a hybrid, designed to carry up to 10 full-length tractor trailer trucks, 55 passenger vehicles, or a combination of both. The ferry was designed by the Elliot Bay Design Group in Seattle, Wash. and built by the Conrad Shipyard in Morgan City, La.; the price tag was $40.4 million.
Representatives from Elliot Bay Design Group and Conrad Shipyard spoke Monday, as did Representative Madden. As the ceremony unfolded the ferries Martha's Vineyard and Governor pulled in and out of the next slip, loading and unloading vehicles and passengers as scheduled.
The Spirit of America Brass Quintet closed the ceremony with Anchors Aweigh. Guests boarded the ship for a tour and a lunch of hot dogs, chowder, sandwiches and cookies.
Aboard the vessel after the ceremony Monday, Steamship Authority governor Marc Hanover, who represents the Vineyard, said he was eager for the vessel to begin service to the Vineyard on Friday.
"I do believe this may be a model of what we should be building," he said. "Kind of a hybrid, carries passengers and freight. I expect it to work very well."
More photos of a day of celebration for the ferry Woods Hole.