Jacqueline Foster wheeled rice bowls into Vineyard Haven last week in a teal and yellow truck. She had been on a food journey both on Island and off and has reached nirvana with Mangku Truck.
Ms. Foster worked as a chef in Providence, Newport, Boston and Ireland before coming to the Island six years ago to be a cheese maker at Grey Barn. During the busy summers she would often eat rice bowls topped with meat she had braised in the morning. The simple, flavorful meal was filling without being heavy and upheld the integrity of individual flavors. She wanted her own business but cheese has a high overhead cost. The idea of a food truck began tickling the back of her mind. When she saw the Irie Bites truck for sale, Ms. Foster decided it was time to take a plunge.
"I felt like I needed to jump off a cliff," she said. She ran the numbers, wrote a business plan and within 48 hours made an offer. She would serve rice bowls that took advantage of the farming community on the Island. As a cheese maker she knew a thing or two about preservation, so she traded dairy for vegetables and began pickling.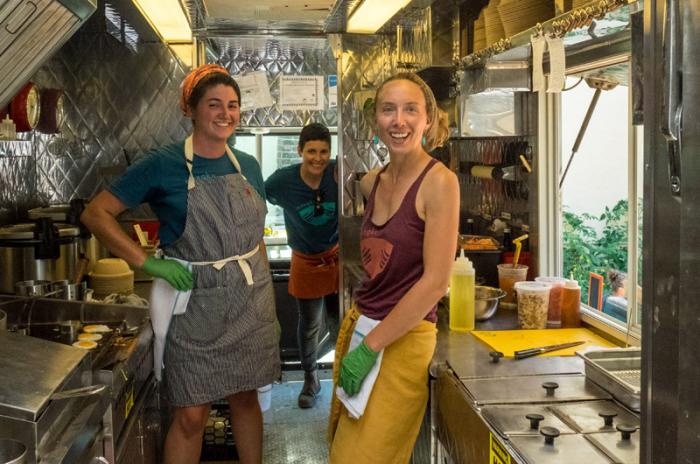 "The first delivery I got was radishes from Blackwater farm. They were so beautiful they almost made me cry," she said. Her rice bowls celebrate each flavor, she said, whether it's smoked bluefish salad with spicy Thai cucumber slaw or red-braised pork with radish kimchi.
"It's more elevating than masking," she said. "Pickling upholds the character of the vegetable."
As her business plan developed, Ms. Foster realized the truck still needed a name. A couple of years ago, Ms. Foster went on a 10-week trip through South East Asia. In Bali she met a healer, a Brahman, who offered to read her palm.
"I was like, I'm good, I'm from New England," she recalled. But then she paused and changed her mind. Looking at her palm the healer said her bridge was broken, meaning she would move on from projects the moment they got close to completion. It was true, she thought. He offered a purification ceremony for $50. Again she said no, before changing her mind again. The purification ceremony lasted for eight hours in a river and was completely life changing.
The healer's name was Mangku, which means 'to hold.'
Ms. Foster had the name, she had the menu and she had the truck. So she spruced up a small lot next to the Capawock theatre by laying down some smooth rocks, a planter full of herbs and flowers and low orange chairs spread out in the dappled sun. Then she opened for business.
Although the Capawock Theatre is its main location, the truck is a moveable feast. Visit mangkutruck.com to find out its location on a day-by-day to basis.