Fourth of July festivities kicked off with a patriotic start this morning with two children's parades — one in the Camp Ground and another in Aquinnah. In Oak Bluffs, marchers stepped off at 10 a.m., with kids, dogs and the young at heart creating a sea of red, white and blue as they weaved their way through the colorful gingerbread cottages.
In Aquinnah, the 15th annual Fourth of July Children's Parade began at the Goldfield-Mannion home, with face painting, buttons, stickers and streamers. Close to 11 a.m., Tom Murphy stood up on a stool and spoke to the 400 or so participants and well wishers. He thanked the Mannion-Goldfield, Patton and Schiller families, who originally founded the parade, which began at the top of Moshup Trail, traveled down to Old South Road, and then veered left and ended at the entrance to Philbin Beach, where a beach treasure hunt awaited.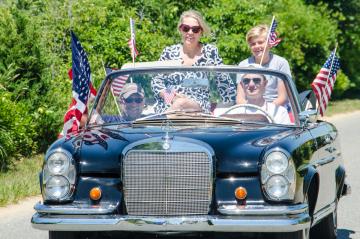 Emma Mannion, daughter of founder Kristin Mannion, remembered the very first Old South Road parade.
"It started as us just banging pots and pans and walking down the street to the beach," she said.
The Mannion-Goldfield, Patton, and Schiller parents began the parade 15 years ago as a way to celebrate their own little corner of the Island on the Fourth, away from the crowds and chaos. It started with just a few kids, but grew steadily each year.
"It's a nice way to celebrate the unity that America is supposed to feel," said Kristin Mannion as she passed out buttons and stickers. Mrs. Mannion is still the main organizer of the event.
As the parade began, kids of all ages marched — youngest first and oldest last. The crowd sang Sweet Caroline and Yankee Doodle Dandy as they walked down Old South Road to Philbin Beach, where chests of treasure and candy lay buried in the sand.
At 5 p.m. the Edgartown Parade begins, traveling throughout the town. The Edgartown fireworks go off at dark.