Frances (Sandy) Fisher 3rd slid a 12-inch knife behind the gills of a 23-pound striped bass he had caught that morning. He deftly removed the flesh from bone before turning to a nine-inch knife to remove the skin from the meat. Within four minutes he had a tray of fillets, and the fish was just a head and tail connected by spine.
"It doesn't get fresher than this," said manager Shaun Fitzpatrick, peering through the plastic curtain into what he cheekily calls the Dexter room, where they process the fish.
It was the first striped bass to land in the new Oak Bluffs Fish Market, which has been open for about a month now. Minutes after the fish had been filleted, Oak Bluffs police Chief Erik Blake came through the door to buy the first piece.
Freshness is key to a good fish market. And Mr. Fisher's commitment to fresh seafood means many mornings he is out on his boat Munchkin before coming into the shop in the afternoon with the catch of the day.
He learned how to fillet by watching his father, Frances (Sandy) Fisher 2nd. And like the last name implies, he has deep familial ties the ocean. Born and raised on the Island, he has been working as a commercial fisherman since he was 18 and always dreamed of opening a shop. Though an Edgartown resident, Mr. Fisher, 40, is a self-described OB floater. He saw the need for a fish market in the harbor town and made it his mission.
"I like that everything is so close, the main population is in walking distance," he said of the town. The shop is tucked next to the Sand Bar behind a sea of rental mopeds, a few steps away from the harbor. It's the only fish market in town and will be open year-round.
"I'm trying to make it affordable for the locals," Mr. Fisher said.
A white board outside the door advertises the day's specials in a hurried scrawl. In the single display case, pieces of pink swordfish lay next to thick red cuts of bluefin tuna and orange halibut. Slightly iridescent haddock and cod fillets shared space with papery-thin pale flounder and pink-ribbed Faroe Island salmon. Blue-gray bluefish caught the day before sat next to an assortment of shrimp, scallops, mussels, steamers and littlenecks. Chappaquiddick oysters harvested from Katama Bay by Mr. Fisher's father were nestled in ice, in front of a small pile of lemons. While some of their stock comes from other wholesalers, within a year, Mr. Fisher hopes to get 80 per cent of the fish right off the boats. "When somebody says, oh where did it come from, well it came from the boat, to a cooler, to here," he said.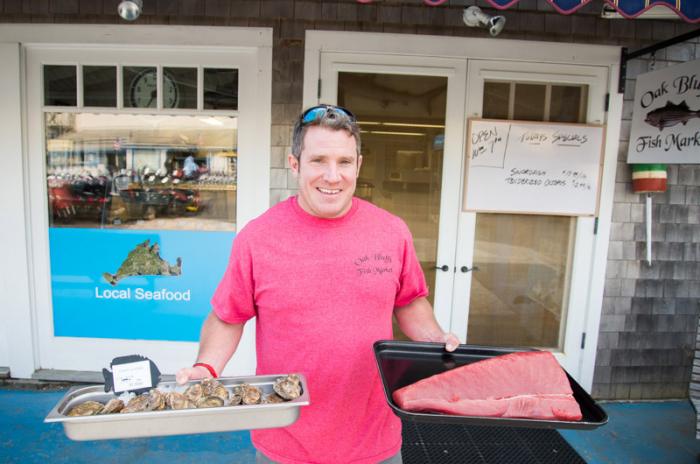 Beyond his passion for fishing, one of the reasons Mr. Fisher wanted to open a market was to help his family.
"My dad . . . he works like a maniac," he said. "That's one of the reasons I want this place to be good, so I can help him out. And my mother."
He sees the market as a good place to retire from being out on the water every day later on, but opening the fish market hasn't been a completely smooth ride. Mr. Fitzpatrick said in one of their first weekends the power went out, leaving them without a digital scale. So he measured out cuts of fish in the large hanging scale they had placed in the window for decoration.
Though the operation is small-scale for now, Mr. Fisher and Mr. Fitzpatrick have ideas for the future. They see possibility in their tank of Island-caught lobsters. Lobstermen like Eric Rodegast pull into the Oak Bluffs harbor and bring the catch directly in. Mr. Fisher and Mr. Fitzpatrick said they plan to begin steaming lobsters in shop soon, and later begin sunset specials.
"A steamed lobster, maybe some corn, something good for the boat crowd," said Mr. Fitzpatrick.
Though they have regulars returning every week and accounts with restaurants like Garde East, the Ritz and the Martha's Vineyard Chowder Company, Mr. Fisher said he's still figuring it all out.
As for whether the new business venture lives up to his dreams, he hasn't had time to decide.
"It's been very stressful, but I think you can ask me that question in November," he said.