After more than three years of planning, a year of construction and a fair share of financial stress, Niantic Park in Oak Bluffs will be fully open to the public within a matter of weeks. Work crews are putting the final touches on new courts and a new playground before the park can officially open.
The renovation began in 2013 as a project to fix the basketball courts, which were at risk of being closed by the parks department because they were unsafe. The scope of the project expanded at first to create a better playground, and then grew to include the entire park.
The popular park has been closed since construction began in the spring of 2015.
"We really are very appreciative for everybody's patience," said parks commission chairman Amy Billings this week. "This was really a much bigger project than anyone anticipated."
Including engineering costs and refurbishment of the historic picnic pavilion in 2010, the cost of the project will exceed $1 million.
Most of the funding, $900,000 came from Community Preservation Act funds. Additional funding came from private donations and grants.
Niantic Park is the center of the town's recreation program.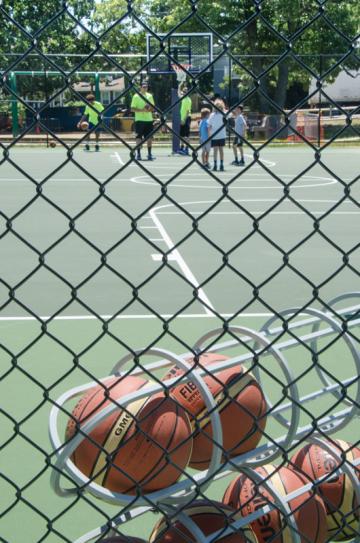 Two new basketball courts are already in use, with a summer youth basketball program underway. The parks and recreation program is actively recruiting people to restart the men's summer league.
One court is regulation size with a new electronic scoreboard; the other is a smaller court designed for youth play and instruction.
Oak Bluffs is now in on pickleball, a popular paddle game that draws on elements of badminton, tennis, and table tennis. Niantic Park will have three new pickleball courts when it opens.
The project includes future repairs to two ailing tennis courts, unused for more than a year. Construction schedules and limited availability of paving material have delayed that part of the renovation. Funding is in place, though, and organizers said they hope repairs can begin this month.
"It's definitely still in the works," said Ms. Billings. "They're going to patch and repair the tennis courts. They're not going to be ripped up like the basketball courts."
Financing for the project has been a juggling act. The first bid came in well above the amount available for reconstruction. The town scaled down the project. The parks department then applied for and received an additional $150,000 in Community Preservation Act Funds, to supplement the $750,000 already received. They also were awarded $5,000 in funding from the Permanent Endowment of Martha's Vineyard, and raised additional money through private donations.
The extra funds allowed organizers to restore most of the design features of the original plan.
"Right now, the only thing we're going to be short on is the final landscaping," Ms. Billings said. Local landscaping companies have already donated time and materials. "We're still trying to raise some more money," she said.
A community group organized by parents in the neighborhoods bordering Niantic Park held a private fundraising campaign that netted more than $92,000. Over five days last October, hundreds of volunteers helped build a uniquely-designed playground which includes boats, a lighthouse and even a ferry for kids to climb, swing, slide and play on. The last element of construction, the ground surface, has been a source of delay. Originally designed with a wood
fiber ground cover, the town was concerned that it would not meet standards of the Americans with Disabilities Act, and decided instead to install a poured rubber surface.
"It's a bonded material that they mix together and smooth out by hand," Ms. Billings said. "It's a soft material for the fall factor and safety, but hard enough for handicapped accessibility." She said a person in a wheelchair will be able to get on the playground and use the structures.
Installation of the poured surface began this week and will take about five days to complete.
"I can't tell you how exciting it was to see the ground cover going down," said Guinevere Cramer, a member of the community group that organized the playground project. "This project has been such an iconic community effort. So many people are waiting patiently, so many Islanders helped to make it happen."
Ms. Billings cautioned people to stay away from the fenced-off playground until the parks commission announces it is officially opened.
"We'll be shouting it from the rooftops," she said. "Until it cures it's very sensitive. This is a large amount of surface that we're covering."