On Thursday evening Washington Post columnist E.J. Dionne gave a talk at the Martha's Vineyard Hebrew Center as part of the Summer Institute Series. Mr. Dionne has been with the Washington Post since 1990, is a former Rhodes scholar, teaches at Georgetown University and is a frequent commentator on ABC's This Week and NBC's Meet the press.
And yet even he was impressed with the Vineyard audience.
"I have been told that there are more advance degrees in this room than David Ortiz has hit home runs," he said. "This may be the smartest audience I've ever talked to in my entire life."
During the talk and Q&A period afterwards, Mr. Dionne discussed what he considers to be a bleak future for right-wing American politics, while also respecting parts of that movement. He used the rise of presumptive Republican presidential nominee Donald Trump to illustrate a fractured conservative political party.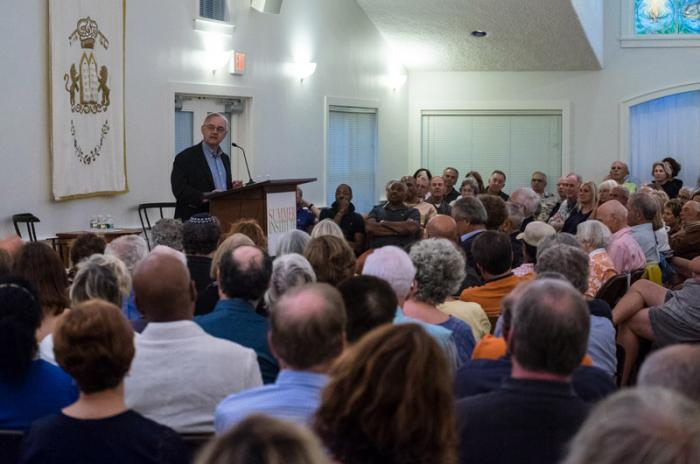 "Ever since the world wars, conservative politicians have had to make a series of promises that they couldn't possibly keep," he said, referencing his book Why the Right Went Wrong as a centerpiece for discussion.
According to Mr. Dionne, Republican promises of ending "big" government and reversing cultural changes of the 1960s doomed the political party. He said this created a radicalized candidate in the form of Donald Trump. But he doesn't think Mr. Trump will win the presidency, though.
"Donald Trump is not going to be the next president of the United States," he said emphatically.
An overwhelming lack of support from Republican women and minority voters strikes a fatal blow to Mr. Trump's campaign, Mr. Dionne said. The journalist blamed the other GOP Presidential candidates for Mr. Trump's nomination.
"They allowed him to rise," he said. "These candidates spent more time going after each other than after Donald Trump before it was too late."
A round of applause erupted when Mr. Dionne began shifting blame onto the media.
"I think it's true that they were not noticing as much as they should, the extraordinary attention Mr. Trump was receiving from the media," he said in reference to the other Republican candidates. "The media, by giving Mr. Trump this degree of coverage, I think disadvantaged other Republicans in the race."
The journalist engaged his audience throughout the evening, ending his talk early for an open discussion.
During the Q&A session, the audience addressed topics ranging from last week's Dallas shootings to the recent Hillary Clinton email investigation. MV Hebrew Center rabbi Caryn Broitman applauded the talk, specifically Mr. Dionne's respect for the conservative political movement despite his opposition to it.
"I think that kind of conversation in America is really important," she said. "It's really important for us to listen to each other. It doesn't mean we have to give up our convictions."
The Summer Institute continues next Thursday, July 21, with guest speakers Karen Freeman-Wilson and Stephen Henderson. Ms. Freeman-Wilson represents Indiana's first African American women mayor while Mr. Henderson won the Pulitzer Prize as correspondent for the Detroit Free Press.
The series continues each Thursday throughout the summer, from 7:30 to 9 p.m.
For a full list of summer institute speakers, visit mvsummerinstitute.com.