Senior managers at the Steamship Authority confirmed this week what many people trying to get through Five Corners, waiting in line at ice cream shops or making last minute ferry reservations already knew: there are substantially more cars and people coming to Martha's Vineyard this summer.
At the monthly boat line meeting held in Oak Bluffs Tuesday, SSA treasurer Bob Davis reported that passenger traffic to the Island was up 6.5 per cent in June over the previous year.
Car traffic increased 2.5 per cent on the Vineyard routes last month, and truck traffic increased 5.1 per cent. Trucks shorter than 20 feet in length, which include most pickup trucks and vans, accounted for much of the truck traffic increase, according to Mr. Davis.
"We're just having a much stronger season," said Vineyard governor Marc Hanover, who also owns Linda Jean's restaurant. "Oak Bluffs has been very busy this year," he said. "Perhaps people are staying close to home this year. If I could explain it I would be a genius. Pent up demand, call it what you like."
The trend has been upward since the beginning of 2016.
Year to date, passenger traffic to the Vineyard has increased 7.2 per cent over the same period last year, vehicle traffic is up 10.2 per cent (excluding the reduced-rate excursion fare available only to Island residents), and the number of small trucks making the passage is up 14.8 per cent (excluding excursion fares).
Also Tuesday, Island freight haulers sharply questioned the idea of an SSA freight route from New Bedford. A preliminary feasibility report on a New Bedford freight route released by the boat line this spring cast doubt on the viability of a new freight service. The preliminary reports advises against purchasing a new freight vessel. The longer route and questionable availability of a suitable docking facility in New Bedford could require years of work to establish the route, and be cost prohibitive, the preliminary report found. Final recommendations are due later this summer.
Clarence A. (Trip) Barnes 3rd, who has been hauling freight aboard SSA ferries since 1960, criticized the proposal, calling it the wrong approach.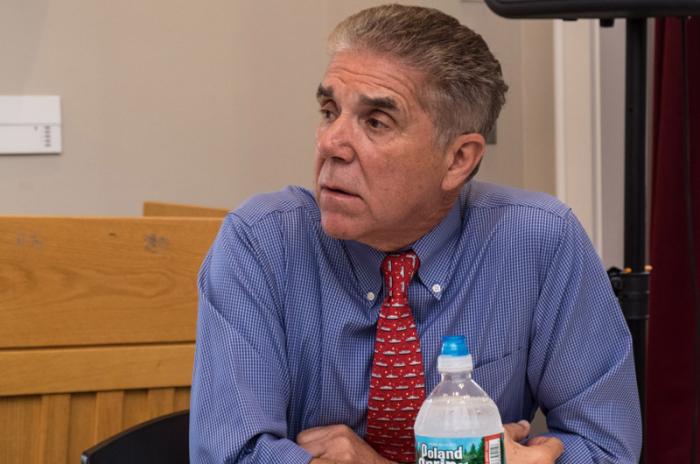 "I just can't understand why you're not talking about car service from New Bedford," Mr. Barnes said. "All my business comes from Connecticut, New York, New Jersey. They would love to get a boat in New Bedford and come over. Truckers don't want to go over there, it takes too much time off your day."
John Leite of JWL Transport in Oak Bluffs called it wrongheaded in general, urging boat line governors not to give undue consideration to a small but vocal group of Woods Hole residents who are pushing for New Bedford service to relieve congestion and noise in the village.
"This is public commerce, this is the lifeblood of the Island," Mr. Leite said. "The idea of going to New Bedford, we tried that. For whatever reason, it failed. I don't think we should disrupt the whole SSA. Sympathy goes to a certain point and then common sense has to take over."
In 2001, and 2002, the Steamship Authority tested a freight service from New Bedford to Martha's Vineyard, but abandoned the idea after operating losses totalled more than $2.5 million over the two years.
In other business, general manager Wayne Lamson gave a report on a bow problem that has turned up with the new ferry Woods Hole.
"At higher speeds, 14 knots or more, and in shallower water, 10 feet or less under the keel, the bow tends to squat more than the stern," Mr. Lamson explained. "It's causing a build up of water in front of the bow, instead of deflecting to the side. It's building up this wave that in rougher weather, could splash onto the deck."
He said for now captains have been instructed not to operate the ferries at speeds greater than 14 knots.
Weekly conferences are being held with the Elliott Bay Design Group, the naval architecture firm that designed the Woods Hole, to work out a solution, Mr. Lamson said, with designers running computer simulations to identify the cause of the problem. Among the design features under scrutiny are splash rails that are supposed to deflect waves, and the keel bulb, which is supposed to deflect water away from the hull.
Mr. Lamson said the low-riding bow was not detected during sea trials conducted in deeper water, or in water tank tests of the hull design.
He said the new ferry is scheduled to go into dry dock from Dec. 8 through Jan. 3, and it is possible that hull modifications may be done then.
Boat line governors also learned that work to refurbish the freight ferry Governor this past winter will cost about $1 million more than anticipated.
Mr. Hanover questioned whether the Governor might be costing more than it is worth. "We've got a boat that's over 50 years old," he said. "I enjoy it as much as anybody on a nice day. We have operating issues when it's not a nice day. This contract has gone from $1 million to $2 million. Do we have a money pit here?"
Carl Walker, director of maintenance and engineering, said the extra work done was to make the boat last a few more years.
"This dry dock was really to make sure we can get that five to seven years out of it," he said. "We feel we took care of all the steel work. Our intent was to get it to 2022, without having to do more steel work. Things are good mechanically." Mr. Walker also is overseeing a plan to modify the Governor to avoid an engine stall that caused the ferry to lose steerage and crash into another ferry in a Woods Hole slip earlier this month. The U.S. Coast Guard must approve any modifications. "If they agree with the plan, it's about a $20,000 fix, not a $1 million fix," Mr. Walker said.