You can still see the superlatives. In the summer of 2014, Mike Nichols returned to the same Broadway theatre where his career took off for a talk about the lessons he learned early in his career. He was thin and labored slightly at times to catch his breath. He would live only a few more months.
In the HBO documentary which captured that talk, his improvisational skills are still there. He pounces on irony, never fails to pick up an accidental straight line, and recalls with a twinkle the breaks and lessons that led to a remarkable career in theatre, film, television and comedy.
A visitor to Martha's Vineyard since the 1960's, and summer resident since 1995, Mr. Nichols' love for the Island is well established among the many friends he made here. Nearly two years after his death at the age of 83, they still remember the superlatives.
"I was a huge fan," said attorney Ron Rappaport, who got to know Mr. Nichols as he handled various legal and real estate matters. "It was a privilege. He was a genius right to the end. I was talking with him a few days before his death, He was as sharp as ever. He loved coming to the Vineyard."

The film Becoming Mike Nichols will screen at the Martha's Vineyard Film Center Wednesday, August 3, as part of Documentary Week at the theatre, followed by a discussion with Vineyard friends Rose Styron and James Lapine.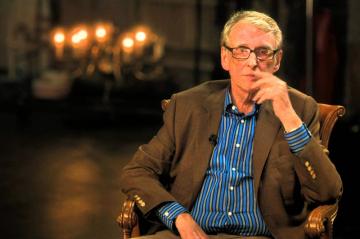 "They're going to do an anecdotal introduction to give people a sense of why Mike liked the Vineyard so much," said film center executive director Richard Paradise.
Ms. Styron has seen part of the film.
"It was wonderful to have Mike alive again," Ms. Styron said this week. "We were very close friends for a long, long time."
Mr. Nichols cherished his privacy on the Island, and ventured into the public spotlight rarely. But he was generous with his friends and neighbors, occasionally treating them to an inside look at his work. Mrs. Styron got to visit the set of Heartburn, a film Mr. Nichols directed starring Meryl Streep and Jack Nicholson.
Another time, she and her son were invited to the set of a science fiction thriller directed by Mr. Nichols.
"Mike took my son Tommy with him when he was filming The Day of the Dolphins," Ms. Styron said. "We got to swim with the dolphins and be part of that."
Mr. Rappaport said he was also privileged to watch the master at work, when a business trip to New York coincided with the filming of Angels in America, which aired on HBO as a six-part mini-series.
"He put me in a director's chair right beside him," Mr. Rappaport said. "It was just a thrill."
Both Ms. Styron and Mr. Rappaport said the documentary film captures the man they knew. The project grew out of Mr. Nichols' realization that he would not complete his autobiography, which he was writing under contract with Knopf Doubleday Publishing Group. His friend and colleague Jack O'Brien arranged a talk at the Golden Theatre on Broadway, to preserve the stories that might have gone in the autobiography.
Douglas McGrath, also a frequent summer visitor to the Island, directed the documentary, and will appear by Skype video after the screening next week.
"We shot only three days," Mr. McGrath said, "He was mentally as alert and quick as you would expect."
Mr. McGrath said HBO afforded him the costly luxury of using long clips of Mr. Nichols' work.
"Documentaries of this sort, when you're showing clips, they want you to run the shortest possible clip," Mr. McGrath said. "The longer your clips, the more expensive it is. What's the point of having an artist like Mike in front of the camera telling his innermost thoughts and decision process. I wanted them to see the scene and feel what he was talking about."
In the film, Mr. Nichols describes the extraordinary circumstances that propelled him to a distinguished and diverse career. He is one of only 12 people who have won an Oscar, an Emmy, a Grammy and a Tony award.
As a child, his parents shipped him and his brother to America to escape Nazi Germany. He learned English from attending movies. At the University of Chicago he met Elaine May by happenstance, and the two students embarked on an improvisational comedy journey that ended up on Broadway for a two year run.
Mr. Nichols offers stories, sometimes hilarious, sometimes serious, about directing his first stage play, Barefoot in the Park starring Robert Redford. His first film was an adaptation of Who's Afraid of Virginia Woolf with Richard Burton and Elizabeth Taylor, and then The Graduate, with an unknown Dustin Hoffman.
In each case, he was acutely conscious of the lessons learned by experience and by happenstance in the process of making movies.
"The thing that you have to know about movies," Mr. Nichols says in the film. "You get lucky in various strange ways. If you've all been together and found the place where you all meet, which is what you have to do to make a movie, then your own unconscious is a very important part of it. There's something about a band of people making a movie. When you get it, and everything shifts and everything changes and says something simple, at least clear if not simple, then that's a thrill, that's exciting, that's why we're here. Because there's nothing else like it. There's nothing like getting it. That part of us that comes out of the unconscious when we're hot, when a thing is happening, is what we have to nourish."
Becoming Mike Nichols screens on Wednesday, August 3 at the Film Center, 79 Beach Road, Vineyard Haven. Visit mvfilmsociety.com for tickets and list of all the screenings during Documentary Week.