While it might be "a tale as old as time," the Island Theatre Workshop's latest production of Beauty and the Beast definitely maintains its magic. The play is bringing the wonder and whimsy of the beloved Disney classic to audiences of all ages, now through August 6 at Martha's Vineyard Performing Arts Center.
The show opened this weekend, and on Sunday, July 31, there was a meet-and-greet with the actors after the matinee performance.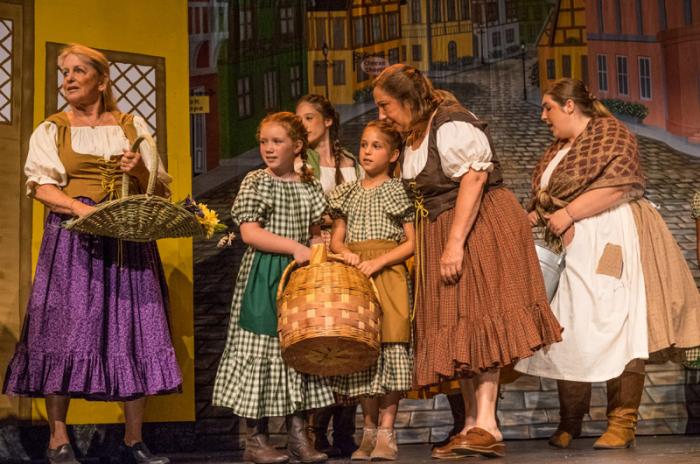 Artistic director Kevin Ryan introduced the production, noting that the Island Theatre Workshop is in its 48th year, making it the longest running live theatre company on the Vineyard. He thanked the volunteers and audience members for their continued generosity and support, without which none of the productions would have been possible.
Although the performance mirrored the Disney production from Broadway, the show began with a short clip from the original animated movie. Audience members cooed in awe as the velvet curtain rose, giving way to a colorful set featuring vibrant cottages in a quaint square, reminiscent of the treasured gingerbread cottages in the Oak Bluffs campground.
Actress Becky Williams stunned as Belle, exercising her vocal talent in classic songs such as Is This Home, A Change in Me and No Matter What, a duet sung with her on-stage father Maurice, played by Jim Osborne.
"I think my favorite song would have to be Belle's last number," said actor David Behnke, who starred as the Beast. "It's such a gorgeous tune."
The song, Is This Home Reprise, provides the culmination for Belle and the Beast's romance minutes before he turns back into a handsome prince.
For audience member Carol Osborne, wife of Jim Osborne, this exact moment was her favorite in the show. She credited the "impressive staging" which included a smoke machine and number of colored lights that hid the beasts' transformative process until the final scene.
Just as the songs and set were impressive, the elaborate costumes, funded in part by a special grant from the Martha's Vineyard Savings Bank, also produced positive reactions from the audience. Namely, when Lumiere, played by Brad Austin, and his fretful sidekick Cogsworth, played by Robert Dusa, first emerged onto the stage, each adorned in intricate and heavy-looking getups.
"The sweat-box I was in weighed about 10 pounds, and I sweated off about eight by playing this role," chuckled Mr. Dusa during the meet-and-greet after the performance.
Mr. Behnke also spoke of his discomfort in his latex mask. "While it's a quick process to get on, admittedly its pretty hot and uncomfortable," he said.
His discomfort proved to be well worth it as children and parents alike admired the beast's powerful performance which concurrently taught important lessons about acceptance.
"If anything, I hope audiences will walk away with two lessons," said Mr. Behnke. "One, people can change, and two, you can't judge anyone by their appearance."
The remaining performances are August 1, 2, 4, 5 and 6, all beginning at 7:30 p.m. at the Martha's Vineyard Performing Arts Center at the regional high school, 100 Edgartown Vineyard Haven Road, Oak Bluffs. For more information and to purchase tickets call 508-737-8550 or visit, ticketsmv.com.