For a recent exhibition, Louisa Gould had to choose a way to hang a variety of paintings from four artists that featured bold colors and large canvases. Many paintings measured more than 10 square feet.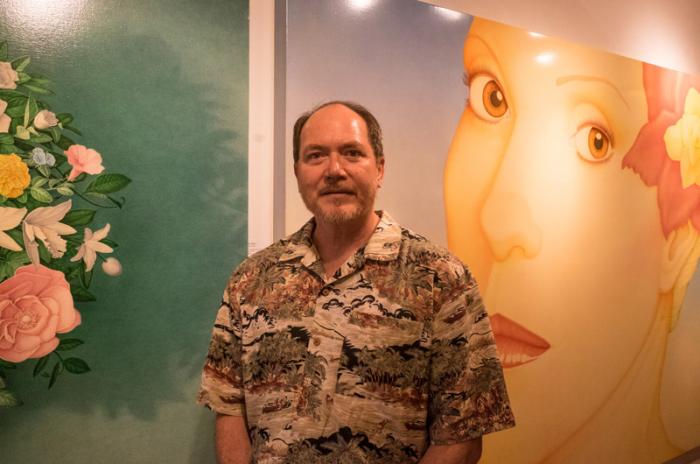 "You don't want the paintings to wash each other out," Ms. Gould said at a reception on Saturday evening at her gallery in Vineyard Haven.
The exhibit is called Martha's Vineyard Recreated and features the work of Nick Paciorek, Peter Batchelder, Frauke Klatt, Kate Huntington and George Brown.
Ms. Gould opened her gallery in 2003 as a contemporary photography gallery. She had experience in yachting photography, but over the years has broadened the artwork she represents. The exhibit ranged from the stark, yet colorful, farm scenes of Peter Batchelder to George Brown's paintings of birds and Kate Huntington's beach scenes. Most of the subjects in Ms. Huntington's paintings were nude. Each was outlined by a thin, dark gray line.
Ms. Huntington pointed out the thin line that outlined each figure. "I'm very proud of these," she said. "I am a real line person, I love the weight and flow of lines."
Ms. Huntington said her passion for painting figures began in high school. She was taught by the Italian artist Antonio Dattorro, for whom she became a protege. The figures in her paintings were mostly women, some relaxed and some pensive.
"If you can draw a human you can draw anything," she said. "Except cars. I cannot draw cars."
For many years, Ms. Huntington painted clothed figures from her home in Rhode Island, but she has recently started painting nudes. Part of the reason is because she did not see many artists doing nudes, she said.
Nick Paciorek's painting Gay Head Noon hung directly across from Ms. Huntington's work. His use of broad brush strokes and strikingly bold colors resembled the Fauvism style of Matisse.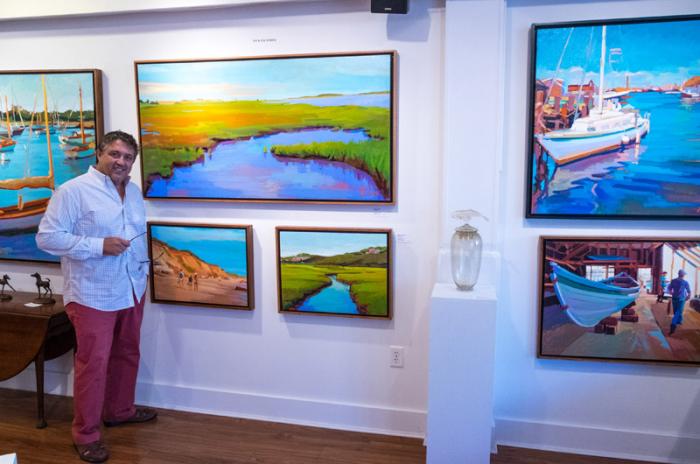 Mr. Paciorek agreed with this assessment. He pointed out a thick red brush stroke of earth next to a green in a marsh. "I have been called a mad beast of color," he said. "I pump out color while staying in control."
Mr. Paciorek grew up in Chicago, where he liked to go to baseball games and walk the city streets. He got in the habit of observing, then editing the information he gathered in his mind on his canvas. When he was a boy, he visited his uncle's studio in Chicago and watched him paint a street scene centered around a dog on a leash pulling a man behind him. He was captivated by how the white square of canvas came alive. It was in that moment that he decided to become and artist.
"I'm just doing what I said I was going to do when I was five years old," he said.
Though Ms. Gould selected off-Island subject matter for the exhibition, the show consists mostly of rural, seaside and Vineyard scenes.
"A lot of people want a Vineyard experience," Ms. Gould said. "You want to give them a story."
Martha's Vineyard Recreated featuring representational works by Nick Paciorek, Peter Batchelder, George Brown, Frauke Klatt and Kate Huntington will continue through August 23 at the Louisa Gould Gallery, 54 Main street, Vineyard Haven.