The inside of the Ice Cream and Candy Bazaar on Dock street in Edgartown looks like an old ship, with dark beams and wide floorboards. Salt water taffy, caramels, chocolates and fudges of all sorts line one side of the room and tubs of ice cream anchor the other side. It's a familiar scene, one that has greeted children and families for many decades.
Today, the store is run and owned by Bonnie-Jo Welch Hakala. She began the business in 1975, at just 17 years old, partnering with her mother's good friend, Gerry Averill. She and Gerry worked together for 13 years, before Bonnie-Jo bought full ownership in 1988. She has been the store's captain ever since.
John, a frequent customer of the Bazaar since Bonnie-Jo's mother, Barbara Welch Morrison, owned the store, says it is one of Edgartown's few dependable constants. He wears a bucket hat while he waits in line for his ice cream, and recalls how in the old days he could see World War II bunkers across Edgartown harbor at low tide. Today, John takes his grandsons to the Bazaar.
"It's all different," he said of downtown Edgartown, "except Main street and Water street. The corner of Main street and Water street is the exact same."
Bonnie-Jo's eyes light up as she describes how some vacationers come to the store right from the ferry, before they even go home.
"It's really fun, watching kids who used to come into the store bring their kids in today."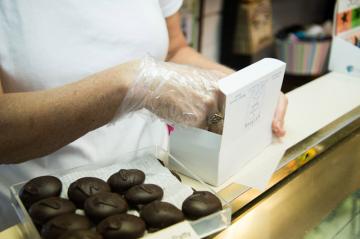 The old building, with its wide wooden beams and sandy floors, has not always been a home for sweet delights. It has also shifted locations over the years.
Two hundred years ago it sat on the other side of Edgartown Harbor and housed a sailmaking company. The building was moved to Dock street after a hurricane in the 1950s. Millie Briggs then bought the building and turned it into an art studio.
It was at this point that a second floor was built, Bonnie-Jo said as she pointed to brass plates under the ceiling beams that support the store's second floor. In 1960, Bonnie-Jo's mother purchased the building from Mrs. Briggs.
"She was crazy enough to turn it into a gift shop," Bonnie-Jo said. The store was called the Yankee Bazaar.
In the industrial years following World War II, Edgartown was home to a competitive coal industry, resulting in loud machinery, grimy streets and definitely no tourist shops. Not many people sauntered around the docks to watch the boats come in, Bonnie-Jo explained. But when her mother moved in with her gift shop the vibe began to change. It was one of the first businesses in Edgartown at the time. Then the Seafood Shanty moved in next door.
Bonnie-Jo hands a black raspberry chip cone across the counter.
"That was when Edgartown was really fun," she said, referring to the days when her mother ran the store and Bob Carroll owned the Seafood Shanty. Bonnie-Jo and her three siblings would run around Dock street, fishing, playing tag and helping their mother.
Bonnie-Jo fondly remembered her mother's keen sense of business and work ethic. "She loved to start people in business," she said. "She got me going."
Bonnie-Jo said she runs the business similarly to how her mother ran the Yankee Bazaar, managing the finances, designing and fixing the centuries-old window sills. The store is open for six months of the year and business is still booming.
Bonnie-Jo smiled.
"It's a sweet life," she said.