Most people view retirement as an opportunity to take it easy after a lifetime of hard work. As Philip Weinstein sits in his Aquinnah home before a breathtaking sweep of Vineyard Sound, the idea seems to puzzle him. Sure, there's a little golf and some traveling, but the Alexander Griswold Cummins professor emeritus of Swarthmore College seems driven to find ways to keep himself in the teaching business.
"You've got to have something in which you recognize yourself. If you liked your work, you want some version of that. You get this one life, do something you like."
So if you are thinking about signing up for Mr. Weinstein's September workshop, beginning with the Herman Melville classic Moby Dick, don't expect an easy time of it. He laughed when a visitor kidded him about choosing a little light beach reading for his next project, and replied with humor.
"If it doesn't weigh a ton, I don't choose it," Mr. Weinstein said. But he is serious about challenging those who join him in the workshop.
"I see my job as to facilitate that, and not remotely to cheat on the difficulty of the work and make it easy, but to convey its difficulty and make that rewarding."
Mr. Weinstein, tall, snowy haired and learned, seems like a character sent from a Hollywood casting agency. He revels in literature, marvels at its complexity, and is compelled to share the wonder with his students. Yet he defies other stereotypes. Not the least bit stern or presumptuous, he teaches for the pleasure of it, he says.
He is well known in the academic world as a Faulkner scholar, but he is excited about returning to Moby Dick, a subject he taught earlier in his career. He has spent "I don't want to tell you how many hours," re-reading and researching Melville, and has been delighted by the process. He expects the book will strike a chord with Island readers.
"Martha's Vineyard, and even more Nantucket, feel almost a proprietary relation to Melville, especially Moby Dick, because of the prominence of whaling in the 19th century here. Melville came around in its heyday. People who know something about sailing will know something about the structure and life of boats and life on the sea. It's not an easy book to read, but parts of it feel like they're already familiar."
A key character in the novel is a harpooner who learned his hunting skills on Martha's Vineyard, and transferred them to the sea as the leader of a whaleboat in the classic adventure.
"Next was Tashtego, an unmixed Indian from Gay Head, the most westerly promontory of Martha's Vineyard," wrote Melville, as he introduced the character in Moby Dick, "which has long supplied the neighboring island of Nantucket with many of her most daring harpooneers. In the fishery, they usually go by the generic name of Gay-Headers."
In Melville's time, boarding a whale ship bound on a three-year voyage to the Pacific Ocean was an extraordinary adventure that carried extraordinary risks. So much was unknown, so many dangers unforeseen. That makes the author's own extensive voyages all the more remarkable, according to Mr. Weinstein.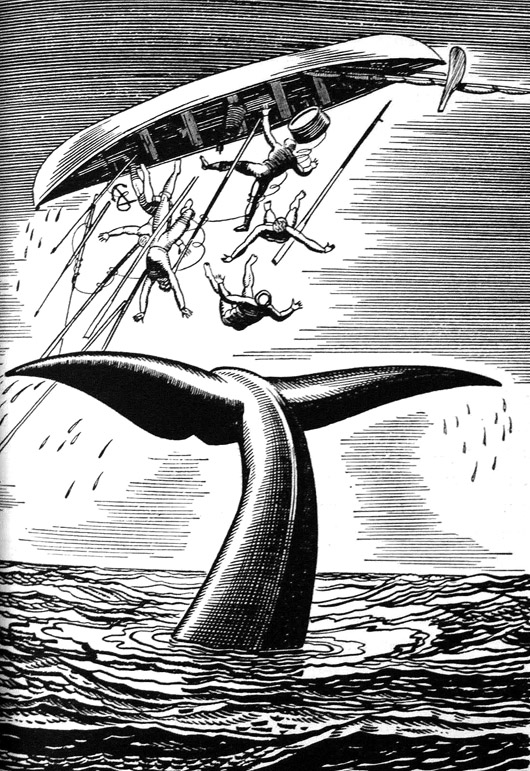 "The only comparable thing would be interstellar space travel. There was no part of the world he didn't see. It's amazing how they risked their lives."
Moby Dick, though now considered an icon of American literature, never brought Herman Melville acclaim or profit. According to Mr. Weinstein, the first printing of the book was 2,000 copies, and less than a third of those were actually sold.
"He died a failed writer, in his mind. He was not unknown, he was just not considered one of the great writers of his time, as his close friend Hawthorne was."
Mr. Weinstein hopes readers will see the epic novel as journey of the mind. The real adventures, he said, are not the voyages of Ishmael and Ahab, but where they take readers in their own minds. He is eager to clear a few things up for those who may have tried Moby Dick before, but capsized in its archaic language and dense prose.
"They want to get lost in it, but not stay lost. There's nothing random about this, but it doesn't follow any rules. The sentences keep building, the clauses keep reaching out. It's intense. This is not about getting literary credibility or status, but coming on board a very great work where you need to enter it on your own terms."
It is clear Mr. Weinstein is still wrestling with the retirement thing. The lure of the Island was the deciding factor in his decision to wrap up his academic career. He cherishes the hilltop home he shares with his wife Penny, where he enjoys what he calls the poetry and passion of life.
In recent years, his Island lectures on Faulkner, Tolstoy and Dostoevsky, organized by the Vineyard Haven Public Library, were well received.
In this series, however, the setting will not be rural Mississippi, or feudal Russia, but the churches and inns of New Bedford, the harbors of Nantucket, the whaling men who hailed from Martha's Vineyard, the decks of the Pequod, and the dangerous waters of the South Pacific. He predicts the lessons will be rewarding for students, and for the teacher as well.
"There's no secret in any of this. I feel lucky because I think it's a good fit. I am lucky there are readers here. What I'm looking for, and what I get, is serious readers."
Mr. Weinstein's six-part lecture series, organized by the Vineyard Haven Public Library, begins Sept. 7 and continues on successive Wednesdays at the Katharine Cornell Theatre in Vineyard Haven. The first three session will feature Moby Dick, and the second three session will feature the novel Absalom, Absalom by William Faulkner. To sign up visit vhlibrary.org or call 508-696-4211.