A piece of slate from an old roof is the perfect place for a crab. Not a living crab; those belong in the ocean. A delicately carved crab by Adrian Smith.
Mr. Smith has been carving animals onto stone since he was a teenager when he spent three months at his New Hampshire boarding school carving a lizard onto a chunk of granite on campus.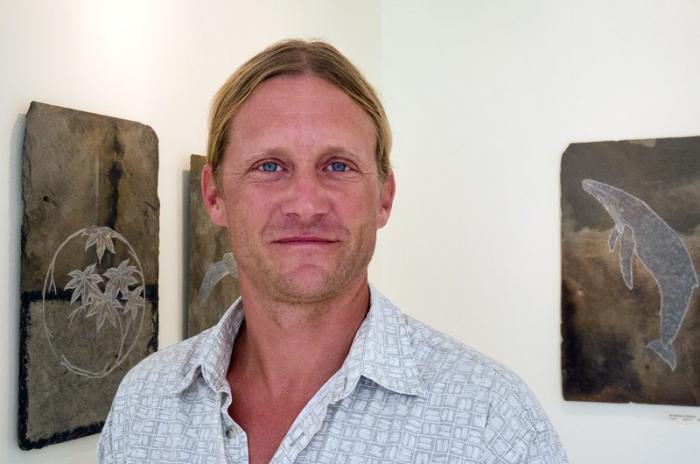 "I found a stone that spoke to me and that I wanted to carve," he said.
In the beginning, he would look at a stone, see a form in it and help the form come out of the stone. As he grew as an artist, he left hard granite for slate; easier on the hammer, arm and chisels.
"Working with slate is as close as you can get to a blank canvas in stone carving," Mr. Smith said.
Now swooping gulls, diving whales and swimming fish make their homes on pieces of slate that hang in his Vineyard Haven gallery. Mr. Smith grew up summering on the Vineyard, learning to carve wood from his grandfather and trying to live as simply as he could.
"High speed life doesn't attract me so much," Mr. Smith said, sitting in his one room gallery, sipping lemonade with fresh mint. That's a good thing, because nothing about carving stone goes quickly. It takes roughly 20 to 40 hours to complete a carving. He completes 10 to 15 a season.
"It's a very slow, repetitive tapping with a mallet," he said. "It really develops mindfulness and concentration and just focus of mind. I'll often find that I'm carving and suddenly look at the time and realize it's been three or four hours and it felt like it had just been 15 minutes or half an hour. I really get absorbed in it."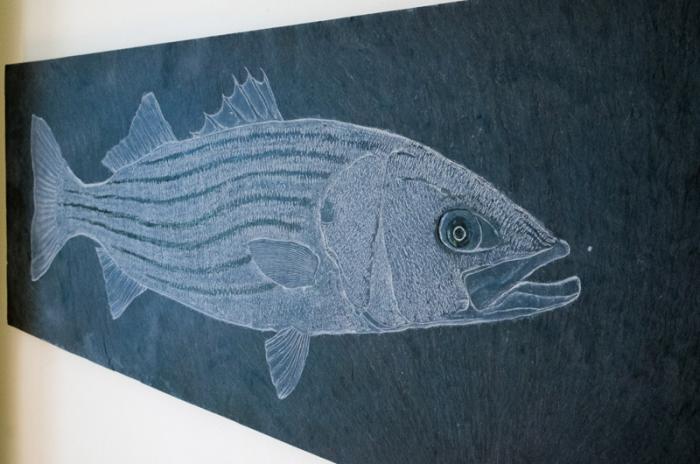 The first step is collecting the stone. Mr. Smith gets his slate from Vermont — some smooth pieces from a quarry and exposed pieces salvaged from roofs. He brings a truckload to the Vineyard where he carves during the spring and fall. During the winter, Mr. Smith travels to Nepal where he runs a study abroad program. Nepal is also where Mr. Smith studied stone carving under the guidance of Jaya Raj Bajracharya in Kathmandu. He remembered it as a very Mr. Miyagi meets Karate Kid experience.
"He taught me in the traditional way that he had been taught and that his father and grandfather had been taught," Mr. Smith said. He studied with Mr. Bajracharya for three years. For the first three months of the training, Mr. Bajracharya made Mr. Smith carve rough stones into square blocks with a flat chisel. Mr. Smith remembered thinking about how he could make the blocks in three minutes with a masonry saw.
"But clearly that was part of the training, learning how to hold and adjust the chisel and work with it. And I think another part of it was he was testing my patience, if I was really someone worth teaching or if I was going to give up and leave easily."
The training was well worth it, Mr. Smith said.
"These carvings will long outlive me," he said. "It feels like a legacy."
When Mr. Smith's family bought a home in Vineyard Haven five years ago, there was a cottage in the back, which Mr. Smith transformed into a tranquil space that is warmed by the sun and looks out over his family's garden. This is the fourth summer the gallery has been open.
Since it's slightly hidden in a residential area, the gallery is never overflowing with visitors, but that suits Mr. Smith as well.
"I get a couple of people a day...it goes with the slow thing, it really works," he said. "It takes so much time to carve each piece, I'm basically selling them as quickly as I'm carving them at this point."
Adrian Smith Stone Carving gallery is open through October, located at 172 Main street, Vineyard Haven. Visit stonesmith.org.