Nettie Kent makes bracelets of brass. Elysha Roberts creates earrings out of clay, Donald Widdis coaxes whales from wampum, and Jessica Kramer strings stones into pendants. Each jeweler has a unique style and it's all for sale at the Vineyard's one-stop-Island-jewelry shop, Driftwood.
Samantha Church, owner, wasn't planning on becoming a businesswoman. Born and raised on the Vineyard, she studied metals and jewelry in college and then came back and began working at Claudia Jewelry in Edgartown. She started thinking about how nice it would be to have a store on a main street of town that sold a wide variety of Island-made jewelry. She saw a market for a locals-only jewelry store on Circuit avenue, the busiest street in Oak Bluffs.
"A lot of people come in on the Island Queen or other ferries and they just stay in Oak Bluffs for the day and they never make it up to the Artisans Festival or the Chilmark flea market or anything great like that," Ms. Church said.
This is Driftwood's second season and already Ms. Church has double the amount of artists displayed, but the third season will really show if the business is a hit she said.
She now sells work from close to 50 designers, and has expanded a bit to include selected accessories, artwork, vases and votives. Driftwood's main purpose is to expand the exposure Island jewelers get during the summer season. On Friday, Sept. 2, from 5 to 8 p.m. there will be a trunk show featuring the jewelry of Elysha Roberts.
"It gave them a place to actually sell their work besides Etsy," Ms. Church said. "There are jewelers I have in the store who do the two days at the artisan, two days at the flea market so they're doing it all the time, but their work still sells really well in a retail situation. I think it's because a lot of people don't leave downtown."
Each display centers around a designer so customers can browse the entire collection instead of visiting a rings section or a sterling silver display.
"I think it makes it seem more special, you can get an idea of who made it, see everything they made," she said.
As Driftwood grows, its featured artists grow with it. The first year, Hannah Marlin was just developing her line, Littlest Fish. Driftwood displayed her wampum feather jewelry near the register. This season, Littlest Fish has a full display.
"It's been nice to see how much she's transformed since we opened," Ms. Church said. "When we first opened she had literally just started making jewelry."
But with the shop growing, Ms. Church is careful about selecting designers whose styles are unique from each other, and have a strong connection to the Island. A few people have tried to skirt the Island-made only rule, but Ms. Church is getting pretty good at catching them.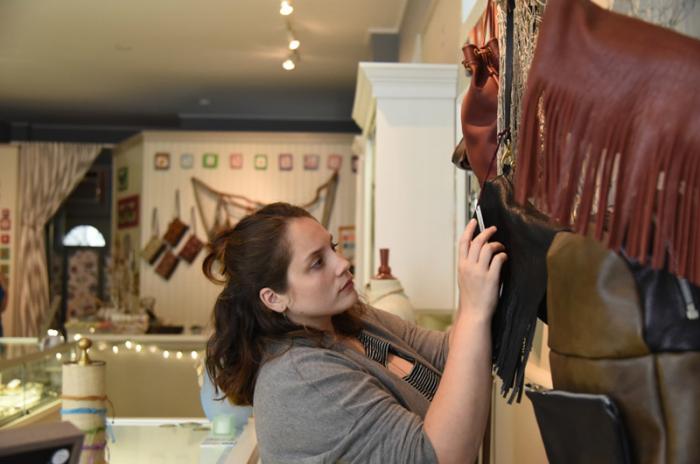 "It sounds so silly, because what is local?" she said. "It's a blurred line. Usually I can figure it out right away if I have to mail their check."
She does sell three non-local jewelers who she graduated with from college.
The shop works on consignment. Instead of buying the jewelry wholesale and reselling it, Driftwood provides display space to the designers and receives a cut of the profit. They also hosts trunk shows where jewelers show off a large collection and some of their riskier or more couture pieces. An upcoming show on Labor day features Elysha Robert's mixed-material pieces. Trunk shows usually bring in friends and family of the designer along with Island residents. But the day-to-day customer of Driftwood is usually a tourist who happened to wander into the shop.
"We thrive on the fact that hopefully people will want to buy something locally made instead of buying a T-shirt that just says Martha's Vineyard," Ms. Church said. "It's a nice little souvenir and then when you look at it, you can remember where you bought it and remember your trip."
Driftwood is located at 42 Circuit avenue in Oak Bluffs. There will be a trunk show for Elysha Roberts jewelry on Friday, Sept. 2, from 5 to 8 p.m.