A dog introduced Doug Cabral to newspapers, after he moved to the Vineyard from Marion in 1970. Dogs came with him as he turned to farming. Dogs then returned to the printed press with him as a newspaper editor. In a way, dogs have been present for every life decision Mr. Cabral has made.
His new book, News Hounds: An Accidental Newspaper Life on Martha's Vineyard, frames his years as editor and community newspaper owner around a multitude of canine companions. And it all began with a mastiff named Diesel.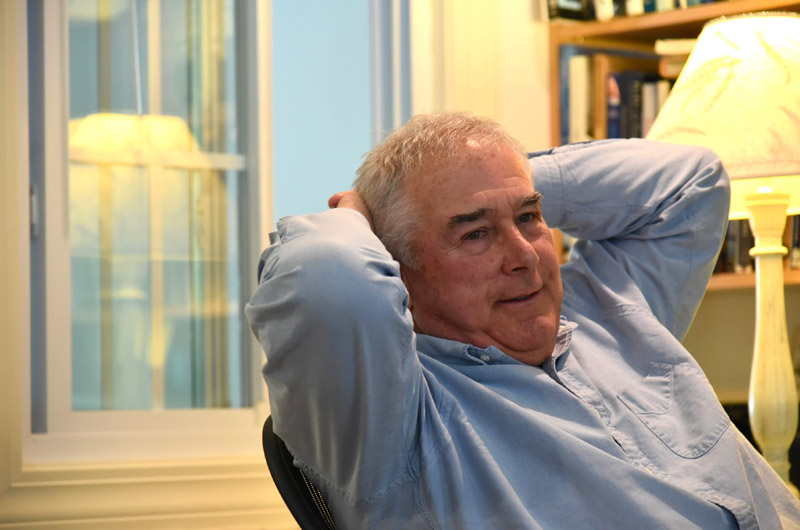 "I think I set out to be an English professor but I didn't get there, I got sidetracked," he said in a recent interview. "Several times."
The book began as a collection of columns Mr. Cabral has written relating to dogs and other animals over his 40 years on the Island. He worked at the Gazette for eight years and the Martha's Vineyard Times for 28 years.
He retired in 2014 and sold the paper after 23 years of ownership. It was his wife, Molly Cabral, who suggested putting a book together.
"She always thought that the things I wrote about dogs were the things people liked the best, as opposed to the editorials and all the other things. She said, you better put together a book of your columns," Mr. Cabral said, sitting in his office at his Vineyard Haven home. Two rotund pugs, Scout (for To Kill a Mockingbird) and Teddy (Roosevelt or Kennedy, your choice) played together, their breathing laborious. The book of columns morphed into a narrative recounting his dog-driven life from Diesel the massive English mastiff, to a Radnor, a Rhodesian ridgeback who enjoyed breaking doors and the round pugs that live with him now.
In the book, the dogs become a mouthpiece for Mr. Cabral's thoughts. When he left the Gazette, he went to work on a Vineyard farm. Pasha the German shepherd came with him. Pasha, the author writes, "condemned what he thought was a mutinous and witless decision."
"It's fun to put words in other people's mouths, even animals," Mr. Cabral said. "It was also a way of suggesting things I was thinking about, about the Vineyard, about my life here, about the people I've met. It was a way of obliquely talking about what kind of a place it is."
He found pups useful in the newspaper business, especially as an editorial writer who sometimes ruffled feathers.
"Someone would come in to complain and then their attention would just turn to one of the dogs, and maybe if they had a head of steam up and were pissed about something, maybe that would dissipate," he said. "I noticed how the dogs were able to do that, not to everyone, there are people who resist, and I thought well, that's kind of characteristic of a lot of the wonderful people I've known over all these years."
He is not afraid to broadly characterize towns on the Vineyard. He does so liberally in his book, again often through dogs. An Edgartown woman is paired with a light stepping Yorkie. A Chilmark bloke wanders the farmers' market with a Labrador.
Whether your dog of choice is as small as a snub-nosed pug, or large as a mastiff, Mr. Cabral sees unending benefits in being with man's best friend.
"Dogs can make you a nicer person than you've generally been, it turned out," he said.
Nice does not mean unopinionated, and through his years of newspaper work, Mr. Cabral loved nothing more than to poke at the towns, the schools the regional planning committees.
"There's a lot of foolishness that goes on here," he said. "There's a great framework for foolishness in the political structure of Martha's Vineyard. The six towns, the six town governments. The six school committees, the regional planning organization. So I did enjoy poking at all of that stuff. I liked to try to write editorials that surprised people sometimes."
Though the book began for dog lovers, it morphed into something for Islanders and small town news junkies. Dogs haven't just provided Mr. Cabral with a frame for his own life, they have also framed his understanding of the Vineyard itself.
"For me, it was a glimpse of the Vineyard community," he said. "Everyone thinks it's a wonderful place where everyone loves everyone. It's not. There are these little irritations. And the dogs know all about it."