When Mary Stewart Hammond's poem The Big Fish Story was published in The New Yorker 10 years ago, her husband "was so mortified," she told the Gazette this week. "He went down to the Stop & Shop [and] bought every copy so his friends wouldn't see it."
Describing a Derby-season episode of romantic skinny-dipping off the couple's summer home in Edgartown, The Big Fish Story returns in Ms. Hammond's new collection Entering History, due Oct. 11 from W. W. Norton. Bringing together poems written since her first book, Out of Canaan, was published by Norton in 1993, Entering History "is about personal and political history inside a marriage," said Ms. Hammond, who has been married to Arthur Y. Allen for more than 45 years. She will read from the book and sign copies at Edgartown Books Oct. 8 from 5 to 7 p.m.
Many of Ms. Hammond's narrative, detailed and highly personal poems take place at the Allen properties on Planting Field Way in Edgartown, the Athearn House and its boathouse, which are passing out of the family in January after generations of ownership. Portrait of My Husband Reading Henry James, published in Ploughshares in 2008 and in the Gazette two years later, is set inside the boathouse on a rainy day:
Blocks and tackle, coiled in figure eight knots,/ loop from hooks on the wooden walls' open studs"; "His hair is silver. Ellington segues to Scott Joplin/ to Bernstein. Firelight collects on his glasses.
Mr. Allen "worries that there are too many poems about him. So I said, well, do you want me to find another man?" Ms. Hammond said, laughing. "He said, they're all about here, and I said So take me somewhere else." And so he did. Traveling with Mr. Allen has inspired some of Ms. Hammond's favorite poems, including the title piece Entering History:
The door to the poem opens in, and a couple enter,
set down their luggage, and stand, backs to the door,
silhouetted against the light, taking in the room.
The next few stanzas soar cinematically above richly-detailed Umbrian terrain, return to minutely examine the human landscape of an aging couple still in love, then gracefully withdraw as night falls: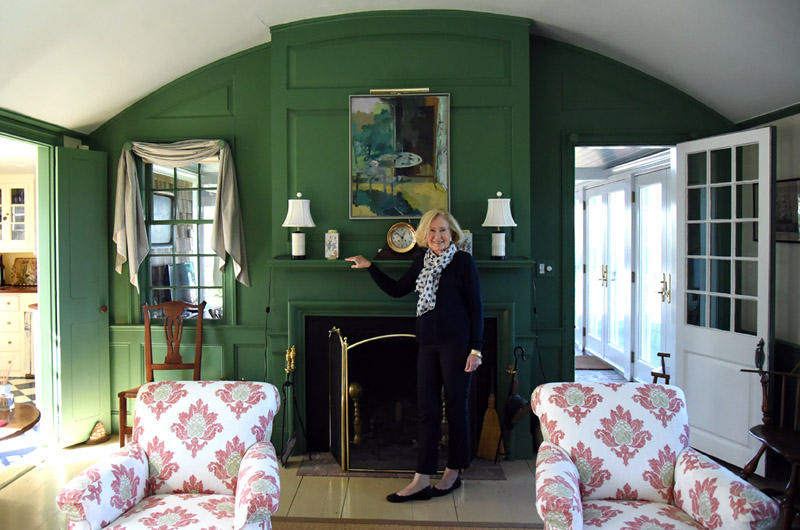 We'll hear them talking,
sotto voce on the other side of the poem,
dusk erasing their bodies.
Ms. Hammond finds poems outside her marriage as well. Seeing Mozart's Piano Quartet in E-flat Major at the Old Whaling Church, published in the Gazette in 2007, tackles the central problem of writing about other arts: The thing about music, it takes place in time,/ And can't be seen. Nor can it be heard in a poem.
In The Art of Passing for Them, Ms. Hammond finds herself seated at a gala dinner party next to a man whose eyes go dead when she tells him — after avoiding the topic for eight stanzas of forced conversation and ceremonials — that she's a poet:
Poets are just regular, normal, neurotic human beings,
who, according to the latest survey, are even more stable
than fiction writers, yet everybody loves to sit
next to fiction writers. They could have a best-seller
in their laptops, meaning money, and money means
some way of valuing what they do sitting home alone all day.
The poem was published in the New York Times Book Review section in 2013, after Ms. Hammond submitted it with a note saying,"This is supposed to be about the writing life and you've never published anything about poetry," she said. "It was long and I didn't know where else to send it," she continued. "And they gave me the whole page!"
Raised in Virginia and Maryland by parents who taught her to "keep your brains in your pockets" and discouraged her from writing as a child, Ms. Hammond rediscovered poetry at Goucher College, where she majored in English and graduated in 1968. An intensive, yearlong daily course in prosody — the forms and patterns of sound used in poetry and speech — schooled her in classical writing: sonnets, villanelles, sestinas and the like. "Thank heaven I had that," Ms. Hammond recalled. Although she found her own voice in free verse, the rigorous formal training continues to inform her use of rhythm, space and stress.
"Those line breaks and stanza breaks are carrying the emotional weight of the poem. They're pretty important," she said.
After college, Ms. Hammond became a journalist, working as a sportswriter for the Baltimore Sun, a talk show host for WAYE Radio and a producer for Maryland Public Television, where one of her cameramen was an uncooperative John Waters. "We did not get along very well," she said. All along, she was writing poetry, which she kept in "notebooks full of bits and pieces."
After moving to New York city, where she and Mr. Allen live in the off-season, Ms. Hammond studied writing at the 92nd Street Y with poets including Stanley Plumly, J.D. McClatchy and Grace Schulman. "Wonderful, wonderful, wonderful teachers," she called them. "That was the equivalent of my M.F.A."
After her first polished poem was accepted by Harold Moss at The New Yorker, Ms. Hammond was launched; her work has since been published in dozens of periodicals and anthologies, she's been a fellow at the MacDowell Colony and Yaddo and was nominated for the Pushcart Prize four times. Because of a recent bout with Rocky Mountain spotted fever from a tick bite, she's currently on sabbatical from teaching poetry master classes through the New York Writer's Workshop.
But she's already working on two new books: her next poetry collection and a memoir. Selling the family properties, while wrenching, has also been a liberating experience for Ms. Hammond, who has been managing both houses as rentals for much of the season each year. From now on, she won't have to worry about loose shingles, broken windows and the other endless repairs demanded by an 18th-century home and a 1930s boathouse.
"It's amazing, being free of these things, how my mind has opened up," she said.
Mary Stewart Hammond will read from Entering History and sign copies at Edgartown Books Oct. 8 from 5 to 7 p.m.; at the Colony Club in New York city Oct. 11 from noon to 1 p.m. and at the Corner Bookstore in New York city Oct. 13 from 6 to 7:30 p.m.