Kira and John Shepherd have been working in the Island culinary scene for 17 years and have never had to worry about too many cooks in the kitchen. The husband and wife team (married for 22 years) are the sole brains and brawn behind Shepherd's Provisions, Vineyard Haven's newest specialty food shop. And they share kitchen space quite well.
With pimento cheese spread, tapenade, and butter crackers for a packed picnic and a s'mores kit complete with marshmallows, graham crackers and tempered chocolates all made in-house, Shepherd's Provisions covers both the savory and the sweet of gourmet dining.
John Shepherd specializes in the savory, adding a little Southern flair from his native Atlanta, Ga. into dips, crackers and spreads. They stock a pepper-infused vinegar that uses hot peppers from the Shepherds' personal garden.
"We had all these peppers from the garden, and we were like what are we going to do with these five million peppers? " Mrs. Shepherd said.
"And if you have apple cider vinegar, you can just put some vinegar in there and it will just keep it going," Mr. Shepherd added.
Kira Shepherd tends to stick to the sweeter side of things, tempering chocolates, mixing caramel corn, and making marshmallows. Her palate is essential to Mr. Shepherd's savory success.
"She's my taster," he said. "I ask her opinions on flavors and stuff."
Together they pickle a variety of vegetables.
The Shepherds are constantly experimenting with their recipes. "If it doesn't work, we just feed it to the children," Mrs. Shepherd said with a laugh. Their sons, Ivan and Oscar, are tough critics.
Shepherd's Provisions, tucked away off State Road, is decorated with illustrations of French bull dogs, in honor of the family's Frenchie Harvey. The shop shares space with the commercial kitchen they used for their wholesale business.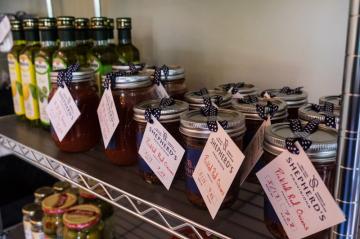 Noticing a disconnect between the look (good) and the taste (bad) of commonly gifted food, the Shepherds wanted to create a specialty grocery shop with packaged food that tasted as good as it looked. They decided to sell it all in one place, directly to the consumers, to keep the prices affordable.
The small space is stocked with homemade sauces, rubs, pickles, jerky, nuts and sweets. A narrow refrigerator chills a heat-and-eat selection of seared crab cakes, soups and noodle dishes. The crab cakes are one of their best sellers.
"Generally when I get crab cakes it seems to me like it's 50 per cent bread, because crab is an expensive product. But mine are very little bread," Mr. Shepherd said. "It's 98 per cent, probably 99 per cent crab, jumbo lumps. People are surprised by that." The cakes come with a garlic lemon caper aioli.
Along with foodie gift items, Shepherd's Provisions adds an option to the lunch menu in Vineyard Haven. They are trying to round out the lunch selection, Mrs. Shepherd said.
"I feel like sandwiches are the one thing we do have in this area, between Humphrey's and the Black Dog and Little House," she said. "I think people want more things they can eat just right out of the refrigerator, which we're trying to figure out."
Though the shop has only been fully operational for about a month, they've already cultivated a small, dedicated customer base. One man recently stopped in for gumbo for lunch only to return for crab cakes for dinner, Mrs. Shepherd said.
They plan to expand their stock next season to include goods like homemade frozen ravioli and pie crusts.
"Everyone I know hates to make pie dough, but they don't necessarily want to buy the junky kind," Mrs. Shepherd said. "Things like that will help people be a better chef at home."
They plan to keep Shepherd's Provisions open through December before taking a few months off to pickle, plan and package.
Meanwhile, the Shepherds are enjoying the structured schedule of a shop rather than the odd hours of restaurant life.
"I get to go golf this afternoon," Mr. Shepherd said. "That's unheard of in the restaurant business."