It's been bad news for shellfishing on Martha's Vineyard and beyond in recent days, from a broadly-drawn state-ordered closure to the discovery last week of a heavy algae bloom in the Tisbury Great Pond that could threaten the upcoming winter oyster season. The closure ordered by the state Division of Marine Fisheries began earlier this month in Buzzards Bay; then over Columbus Day weekend the closure was extended to all areas south of Cape Cod, including the Vineyard and Nantucket. All Island harbors and ponds remain closed to shellfishing. The reason is a bloom of the diatom Psuedonitzchia, a toxic plankton that concentrates in the gut of shellfish and causes amnesiac shellfish poisoning, a severe form of gastrointestinal illness.
Bay scalloping is exempt from the closure since the muscle, not the gut of the scallop is eaten. Acting out of an abundance of caution, Nantucket this week closed its scallop fishery too.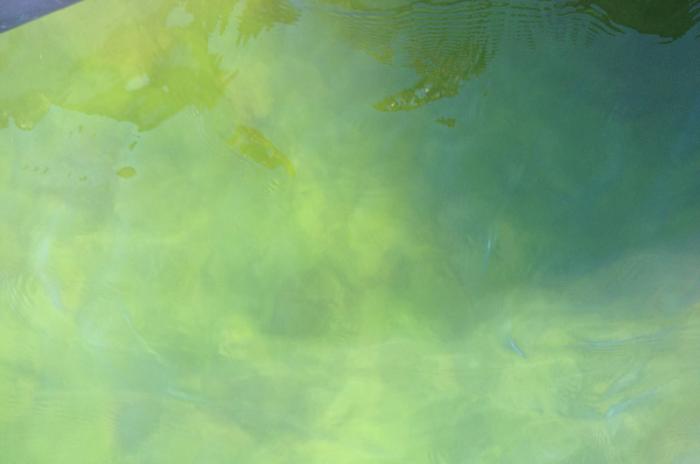 On the Vineyard, where bay scallop season is just getting under way, the fishery remains open.
But for Island oyster farmers, the state shellfish closure has hit them right in the breadbasket.
"It is definitely a huge hit financially, I can't make this up," said Ryan Smith, who owns Signature Oysters in Katama Bay, one of 12 active farms in the large saltwater bay. At the time of the closure, Mr. Smith said he had been having one of his best years. There had been no closures for Vibrio and the market for oysters had not slowed down. Through the summer he sold as many as 30,000 oysters a week, and in September and October, the numbers stayed as high as 25,000.
"It was pretty much the best September and October we've had," he said. "It was incredible how many were selling, I was going to Boston twice a week with oysters, never had that happen before."
Now, despite the closure, Mr. Smith still has to tend to his farm regularly, but with no harvest.
"That's the worst part," he said. "The work doesn't stop. I still have employees out there, everything has to be done regardless if I'm selling the oysters — I'm pretty much working for free."
Dan Martino of Cottage City Oysters off Eastville Beach in Oak Bluffs said the timing of the closure has not affected the small farm he operates with his brother quite as badly.
"It's a good time for us because we're working with the shellfish group to grow some kelp this winter," Mr. Martino said, referring to an experimental project under way.
Though some worry the closure will scare off potential customers, Mr. Martino hopes it will show consumers that Island oyster farmers are responsible.
"I hope somebody who has never tried an oyster before sees that if there is a problem, we respond quickly enough, this is good proof," he said. "If there is a questionable doubt that something isn't safe, it wont be served."
Still, he conceded oysters are at their most flavorful now. "They are plump and juicy and sweet, fall is definitely my favorite time to eat oysters."
Chilmark shellfish constable Isaiah Scheffer, whose town hosts six active oyster farms, agreed the timing could have been worse.
"We're lucky this is the end of the growing season; if this happened in July or August it would be bad for a lot of guys," he said.
Jeremy Scheffer, who owns Spear Point Oysters on Katama Bay, expressed frustration with the state over the way information is communicated.
"It would help us to understand what's going on with these types of things and help us prepare for the future," he said, noting that the closure came as a complete surprise.
"Any oyster farmer will tell you, it's about establishing a consistent market . . . it's about being reliable," he said. "Restaurants want product that is consistent and that will be consistent."
He concluded: "Nobody wants anybody sick, but just because we're a smaller industry we get told all the time how this is going to get run," he said.
Meanwhile, a heavy bloom of algae along the western side of the Tisbury Great Pond is confounding shellfish biologists and water quality experts.
Rick Karney, executive director of the Martha's Vineyard Shellfish Group, confirmed Tuesday that he and West Tisbury shellfish constable Ray Gale had discovered a thick mat of the bright green algae along the eastern side of the saltwater pond which spans West Tisbury and Chilmark on the south shore of the Island.
Mr. Gale had apparently gone out to check on the wild oyster beds, with a plan to make recommendations to the shellfish committee this week for the oyster season. "He called me and said I can't believe the algae, I can't even get an oyster sample," Mr. Karney told the Gazette.
He said the algae is mostly ulva, a type known to occur where nutrients are elevated in the water. "This is a serious algae bloom," Mr. Karney said. "Something really went wrong." He also said for unknown reasons, the algae is confined to the West Tisbury side of the pond. "I don't know why it is only on the West Tisbury side and not on the Chilmark side," he said. "Maybe it was west winds that blew it over. Maybe it was the drought and poor circulation in the pond over the summer."
The algae bloom was discussed in detail at a meeting of the West Tisbury shellfish committee this week, attended by clammers and others who use the pond.
"It's freaky," Mr. Karney said. "I don't know what impact it's going to have on the oysters. But it's nasty and people should be aware the problem is here. The pond is at a tipping point and it doesn't take much to tip it over.