Tanya Chipperfield once dreamed of opening a vegan, whole food restaurant. Instead, she opened a Grateful Dead-themed pizza business called Wolf's Den Pizza with her partner, chef James Goff. The original Wolf's Den in Vineyard Haven opened in 2015, and recently the business expanded to a location near the Triangle in Edgartown, taking over from The Pizza Place.
"It's funny, my dad always said, Tanya, if you could learn to make a good pizza dough, and good pizza, that he'd back me," she said.
The couple's first experience with pizza on the Island was running Bob's Pizza on Main street Vineyard Haven for four months. The same week they started at Bob's their son Wolfgang (Wolfie) was born. They later bought Vineyard Pizza Place on Beach Road, which in honor of their son became Wolf's Den Pizza in April of 2015. Wolfie is in turn named after one of Jerry Garcia's guitars. Wile Mr. Goff is a major Deadhead, Ms. Chipperfield describes herself as a more fan-by-association.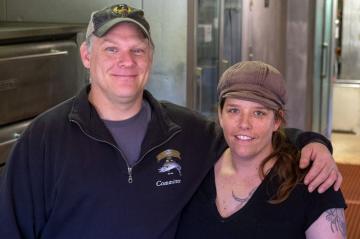 "I listen to punk and hardcore music," she said. But more than anything, she's into food. She began working at Mocha Mott's in the early 2000s and quickly found her way into the back kitchen. Then she worked at Scottish Bakehouse as head baker, where she sank her teeth into dessert making. She still hopes to bring more of her pastry chef skills to the pizza places.
"I had been making tiramisu and Snickers cakes and specialty desserts out front," she said. "I'd really like to get back into baking and making more desserts...It's just making the time to make it happen."
The pizza dough recipe was inspired by The Binnacle, an eclectic pizza joint on lower Cape Cod where Mr. Goff worked in the early 2000s. Credit for the sauce and grinders goes to Laurino's Tavern in Brewster, another restaurant where Mr. Goff worked.
"This place is like a marrying of the two," said Ms. Chipperfield.
With their combined culinary skills, the pizza that comes out of Wolf's Den's ovens is a bit of a "foodie pizza," Ms. Chipperfield said, although she doesn't like the word "foodie."
Creativity is clear in the specials. Their Three Little Pigs pizza was created after a windfall of tomatoes was harvested at Whippoorwill Farm. They turned the tomatoes into the tomato-bacon jam used on the pizza. Its counterpart, the Big Bad Wolf pizza contains pepperoni, sausage, mushrooms, onions, green peppers and olives. The Thai chicken pizza has peanut sauce, while the Big Mac is a burger-turned-pizza, including a sesame crust and pickles.
"For people who are more adventurous with pizza, we have things that can satisfy that," Ms. Chipperfield said. "I always tell people, when you think you don't like blue cheese or pineapple, I promise if you try it how we recommend it, chances are you won't even know that it's there. It will all come together and complement the other ingredients."
The other specialty is grinders, which are toasted with meat and cheese and then finished off with thinly-shredded iceberg lettuce.
"It gives it a fresh, hydrated bite," she said.
The couple has spent most of the last month redoing the inside of the new location: painting, adding new flooring, bringing in new equipment.
"We gave it the love that it needs, which sometimes means elbow grease," Ms. Chipperfield said. "It's going to look and smell different when people walk in there."