Jasmine Thompson hears the same thing at every art party she hosts.
"I don't even know how to draw a stick figure," someone will inevitably say. But two hours, several colors and one canvas later, that person leaves the studio with an acrylic painting they completed themselves.
At Jazen's Art Studio in Oak Bluffs, everybody is a Picasso. Well, at least a Warhol.
Art parties are an easy introduction into painting for the casual hobbyist, Mrs. Thompson said. She has been hosting these events for over three years. At first, she travelled between Island restaurants, bars and private homes, carrying jugs of acrylic paint and canvases. This year, Mrs. Thompson opened a studio on the first floor of her home and began to host parties for both adults and children in the new space. The adult art parties often turn into mini, art-inclusive potlucks.
"When I went to places, when I went to homes, when I went to locations, I would bring what I needed because I can't bring my whole studio with me, and then they would only have a certain color pallet they could use. But now there's a lot more freedom."
To get people started, Mrs. Thompson demonstrates a painting and then the attendees follow along, replicating the painting on their own canvases to be taken home after the party. But there are no rules about following the image stroke by stroke or color for color. Art parties aren't so much about painting instruction, but rather a way to break down a barrier for people afraid to try painting. Plus, the group element helps foster creativity and joy of creating art.
When a private party books an evening, Mrs. Thompson has a large variety of potential paintings to suggest or she offers to create a new painting directly in line with the group's interests. She said she tries to encourage everyone not to be negative about their work, but also understands that people are very good at judging themselves harshly, especially when it comes to art.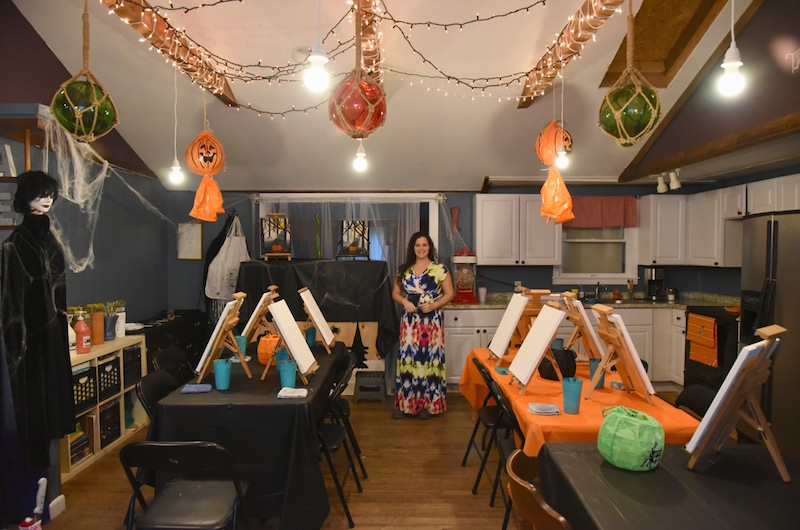 "I think it's important for people to go through those emotions, because that's kind of what art's about, it's an emotional thing," she said.
Mrs. Thompson has a degree in art education from Massachusetts College of Art and Design. She moved to the Vineyard full time four years ago, and her paintings hang in Nashua House and the Edgartown Golf Club. She also does sign design, graphic work, murals, face painting and logo design. One of her in-laws brought art parties to Mrs. Thompson's attention. She attended a few and quickly decided she'd enjoy hosting them.
"Sometimes people who are already artists think it's a stifling type of thing, but I didn't find it that way," she said. "I thought that it was really interesting that people who might never pick up a paint brush in their lives are all of sudden getting an opportunity to be creative and do something they'd never think to do."
The name Jazen is a combination of the first syllable of her name, Jasmine, and her mother's name, Zenovia, who is an artist and inspiration to her.
Though it began with painting, Mrs. Thompson has her eye on expanding the parties to include collage and needle felting events. But, for now, there are autumnal paintings to be painted and winter scenes to be sketched.
For more information and to schedule an event, visit jazens.com.