When the Vineyard lights up for Christmas, few homes shine as brightly as one on County Road. For the last 38 years, Robert and Lynn Gatchell have turned their yard into a holiday extravaganza, lighting up every night to celebrate the season.
Mr. Gatchell, who loves the Christmas season, said the display started small the year they built their house and has just grown and grown and grown.
"When I lived in [Somerville], about the only decorations we had were the proverbial single candle in the window and the tree," he said. "We were in an apartment house so you couldn't really decorate the outside of the house."
Now he goes all out.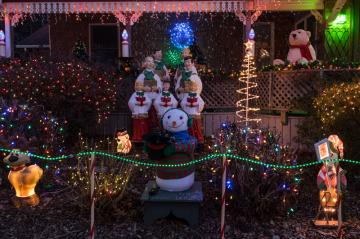 Over 20,000 lights are strung along the eaves, around trees and over bushes. Twenty-one reindeer dot the grounds, nine taking flight pulling a sleigh over a pond, the others taking a break to graze. There are soldiers and carolers, angels and snowmen, even the Grinch makes an appearance.
"My wife wouldn't let me buy [a Grinch]. All of a sudden someone left one on the back porch," Mr. Gatchell said.
The decorations are a mixture of homemade, antiques and online-finds. Many of the decorations were built by Mr. Gatchell, a carpenter who specializes in restoring gingerbread cottages in the Camp Ground. He is currently restoring the historical benches in the Tabernacle.
For the Christmas display, Mr. Gatchell built dioramas of Santa's workshop and home with stockings for all nine reindeer. He built custom railroads for both his grandchildren — Ali's Gift Shop for his granddaughter's first Christmas and a replica Oak Bluffs fire station for his grandson's. He also created a light-up map of the Vineyard that perches on the edge of the roof. This year a new addition to the display blows out faux-snow, making every evening white.
Mr. Gatchell begins preparations for the Christmas display in October as the Striped Bass and Bluefish Derby ends. He estimates he replaces 1,000 lights a year.
His wife, who doesn't like the cold, helps him string lights and set up the display before heading south for the winter. Then Mr. Gatchell is on his own to welcome guests every evening and oversee his wonderland.
"It's a great time of year," he said.
The entire display is powered through Mr. Gatchell's home electricity, with seven timers set to control all the power. He plans to keep going every year, until he is no longer able to manage it physically or the electricity bill gets too high. But he has no interest in contributions.
"Either I do it, or it's not there," he said.
For those who wish to help out, the Gatchells have for the past 17 years included an Island Food Pantry collection basket in the display. Last year, he estimates, they donated approximately 2,500 pounds of food.
The display lights up from 5 p.m. to 8 p.m. every night and stays up until New Year's Eve. And, if weather permits, Mr. Gatchell plans to welcome a special guest on Christmas Eve around 5:30 p.m.
Canned and boxed goods are welcome as well as cash and check donations. Make checks out to Island Food Pantry.