Lauren and Jim Steiner of Oak Bluffs welcomed Avery Brenda Steiner 38 seconds after midnight on Sunday. Avery is the first baby of the New Year on the Cape and possibly the entire state. Born at the Falmouth Hospital, she weighed six pounds, four ounces, Mrs. Steiner said. The hospital rounded up the birth time to 12:01 a.m.
Mrs. Steiner is the director of student services at the charter school and Mr. Steiner is an architectural mill worker. The couple had no idea Avery would be a New Year's baby as she wasn't due until Jan. 18.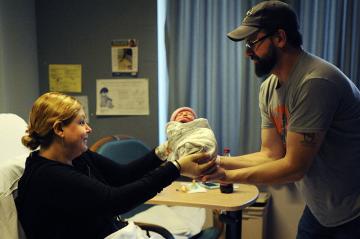 On Tuesday morning, the Steiners were packing up at the hospital, preparing to return to the Island with their newest addition. Reached by phone, Mrs. Steiner said they were always planning on having Avery in Falmouth, where her doctor is located. When Mrs. Steiner's blood pressure was too high on Thursday, the couple traveled to the hospital to induce labor early. However, the birth did not begin until Saturday afternoon.
As Avery was born they watched the ball drop in Times Square, Mrs. Steiner said. Avery is the Steiners' first child.
"She's just precious," said Mrs. Steiner. "Not fussy at all, sleeping a lot."
The first baby of the New Year on the Island has yet to be born.