The Harbor View Hotel took home the best chili title at mvyradio's 31st annual Big Chili Contest held at the Portuguese American Club this weekend.
About 1,600 people attended the event, which for the first time was held in March instead of January. Sponsor mvyradio changed the date with the hope of more predictable weather and more participants. Neither was achieved as the week's weather was just as stormy as winter and the number of participants stayed level, station director of underwriting Greg Orcutt said.
The chili contest raises money for the Red Stocking Fund, a volunteer-run nonprofit that provides clothing and toys for Vineyard children in need at Christmas time. A tally of how much money was raised was not yet available.
"It's the main reason we do all this," said Mr. Orcutt. "It's a fun excuse to have a party."
In addition to traditional chili, Not Your Sugar Mamas spooned out vegan chili, Enchanted Chocolate passed around thick pieces of chocolate spiced with chili and Roy Scheffer shucked oysters. A mariachi band provided entertainment as the chili runneth over.
Full list of winners: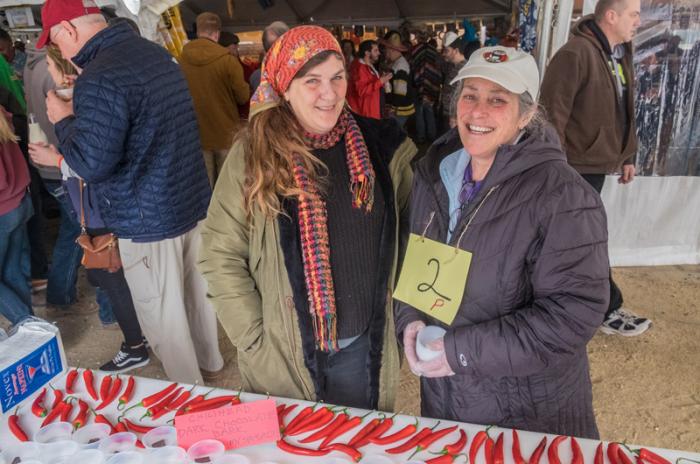 Best professional chili
First place: Harbor View Hotel
Second place: Ocean View
Third place: The Barn Bowl & Bistro
Best amateur chili
First place: Wild Willy's
Second place: Dr. Jack's Love Chili
Third place: Bob Costello's Official Chili
Special categories
Most Traveled: Naked Baking Ladies of West Hartford, Conn.
Best Vegetarian: Not Your Sugar Mamas
Is that really chili?: New Moon Magick Enchanted Chocolates with their chili chocolate bark
Hottest chili (the Steve Jordan award): Edgartown Fire Association
Best Presentation: Wild Willy's
People's Choice winners, presented by Jenny Johnson, host and creator of NESN's Dining Playbook
First place: Lookout Tavern's "There She Blows" chili
Second place: Harbor View Hotel
Third place: Bob Costello's Official Chili