Offshore Ale, the year-round brew pub that has long anchored the Oak Bluffs dining scene, has been quietly placed on the market for sale.
After 12 years at the helm owners Phillip and Colleen McAndrews are looking to find a new owner and steward for the restaurant, Mr. McAndrews said Monday.
"I need to find someone who I can train and pass Offshore off to," he said. "So we're just starting the process to find an individual who would love this place as much as we have, and carry it on."
The youngest of the couple's four children will graduate from high school next year, he said, and at that point all four will be scattered around the country. None are interested in taking over the business, and their parents are looking for a flexible schedule that is hard to find running a year-round business.
The 20-year-old restaurant at 30 Kennebec avenue is listed for $4.2 million. The listing went online last week with Link MV, the Island's multiple listing service for real estate. The price includes the building, beer business, brand and a turnkey, fulled-staffed restaurant.
Mr. McAndrews said the restaurant has quietly been on the market since October, when the McAndrews gathered the staff together to tell them their plans. The restaurant is for sale "lock, stock, and barrel," he said, and they are hoping to find someone who would carry on the current business.
"I have a great staff here," he said. "Many of them have been here for many years . . . . it's really a turnkey business. They've helped make this place a success."
Offshore was opened by Robert Skydell in 1997 as City Ale and Oyster, a restaurant that included the first brewery on the Island. After about a year the name was changed to Offshore Ale Company, named after the most popular brew on the menu. The original name remained on the outside of the building at the corner of Kennebec and Healy avenues. The restaurant became well-known as a year-round gathering place for all ages, featuring beers brewed on-site with names like Beach Road Nut Brown Ale and Inkwell Imperial Stout, wood-fired pizza, local seafood, live music and peanut shells littering the floor.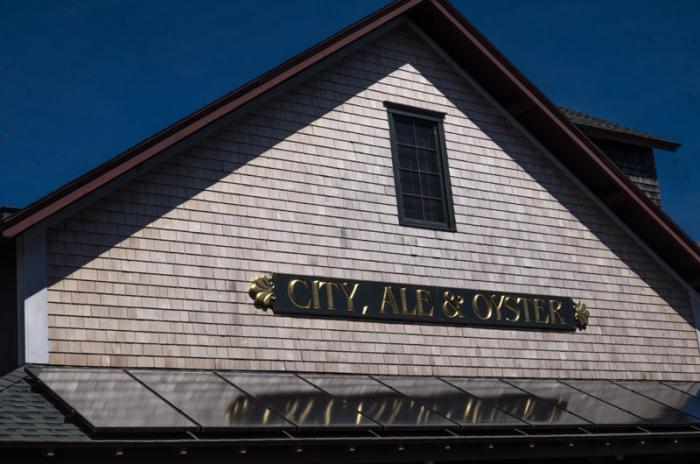 In January 2006 Mr. Skydell sold the business to the McAndrews, who lived in Rhode Island. Mr. McAndrews was a businessman selling beer, wine and spirits, and had long dreamed of one day running a small Irish pub or something similar. On a weekend getaway to the Vineyard, the couple saw Offshore was for sale. Mr. McAndrews was 40 at the time, he recalled, and "we just jumped on it. "
The couple has been here ever since and "it's been a great experience," he said. The only thing he will not miss is the paperwork.
They are taking their time with the sale, he said, starting with getting the word out. The listing is with Jon Hartzband of Martha's Vineyard Island-Wide Realty, who is well-suited to represent the property: he worked at Offshore for 17 years as a bartender. "He knows the whole story," Mr. McAndrews said. "He's a great person to really represent and actually have the inside knowledge of all that this place is. "
He continued: "I don't know how easy or hard it's going to be to find someone that would be a good fit for it. It's just important to take some time and be able to go trough the process and be selective about it."
But for now it will be business as usual at Offshore. "We're still here, on site, and doing everything we did before we listed it," he said. "We're here, hands on. It's going to be that way until someone else takes over."