The Spectrum Film Festival, at the Martha's Vineyard Film Center April 27 through April 29, is the Island's first cultural celebration of lesbian, gay, bisexual and transgender experiences.
"We realized there was this gap in entertainment here — and a gap in education," said Bob Dutton, theatre manager for the Martha's Vineyard Film Society, who first proposed the festival to executive director Richard Paradise late last year.
Apart from the Gay-Straight Alliance at the Martha's Vineyard Regional High School, Mr. Dutton said, there's no local group or resource for Islanders who are not heterosexual.
"That seems kind of unusual," said Mr. Dutton, a 1979 graduate of the high school who returned to the Island a few years ago after two decades living in gay-friendly Orlando, Fla.
Mr. Dutton selected most of the films for the three-day series. He also arranged for after-screening discussions with filmmakers, documentary subjects and Island residents who will talk about their experiences on the Vineyard.
"Everybody has a different story," he said. "We wanted to bring together and tell those stories."
The festival opens Thursday evening with The Freedom to Marry, a documentary tracing the historic Supreme Court case that legalized same-sex marriage in 2015. After the screening, Island resident Mary Breslauer will interview, via Skype, civil rights attorney Mary Bonauto, who argued the case before the nation's highest court.
Same-sex Vineyard spouses are invited to take part in the evening's Wedding Album, a slide show that will play on the Film Center screen before The Freedom to Marry begins. Participating couples will also get free admission to the film, while tickets remain available.
To be included, Mr. Dutton said, couples must provide their names, wedding date and location and one to three photos of the couple only. If they have children, they may include one family photo.
Information and images should be sent by email, with the subject line Wedding Album, to mvfilmcenter@gmail.com no later than Monday, April 24. Once the screening is sold out, Mr. Dutton said, no further entries will be accepted because there will be no seats for those couples.
Marriage is also the theme of Cloudburst, screening Friday afternoon, in which Academy Award-winning actresses Olympia Dukakis and Brenda Fricker play 30-year lovers on a road trip to get married.
After the film, Island author Tom Dunlop will lead a conversation with Islanders Tony Lombardi, Susanna Sturgis, Ev Wilson and other panelists, about how the Vineyard's LGBTQ culture has changed over the past three decades.
A series of short films Friday evening includes Bayard & Me, about the overlooked 1960s civil rights activist Bayard Rustin, and an anthology of films about LGBTQ life under the oppressive laws of Kenya.
On Saturday, from 9:30 a.m. to 3:30 p.m., admission is free for ages 13 to 21. Mr. Dutton has invited students from all the Island's schools, and many on the nearby Cape, to attend the program of three youth-oriented films and post-show discussions.
The Steamship Authority is donating free ferry tickets so Cape students can attend without the extra cost, and free pizza from Rocco's will also be provided at lunchtime.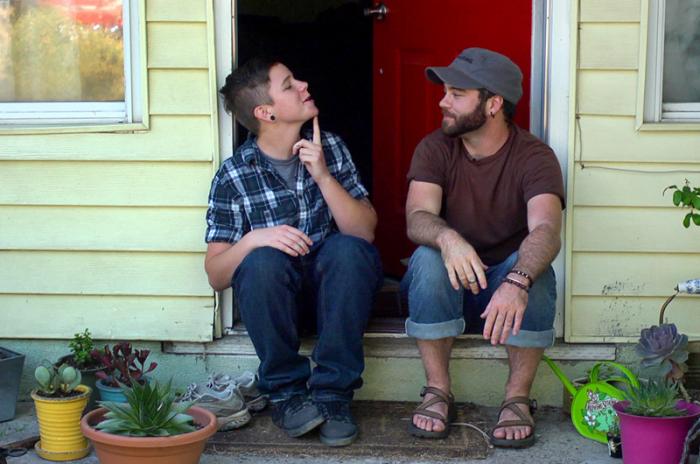 Compared to Orlando, where he taught drama in high school and middle school, Mr. Dutton said the Vineyard has a dearth of local role models for young people whose sexuality doesn't match straight norms. His hope is that Saturday's event will offer a sense of community that regional LGBTQ kids have lacked.
"We want them to feel that everybody can be themselves for a few hours," he said.
Mr. Lombardi, director of Alex's Place at the YMCA of Martha's Vineyard, will be one of Saturday's speakers, sharing his story of growing up on Martha's Vineyard.
Following the youth program will be more features including Margarita with a Straw, which tackles a subject rarely shown in film: the love lives of the physically challenged, in this case a young college student with cerebral palsy.
After the screening, proceeds from which will benefit Camp Jabberwocky, former Jabberwocky camper Alexander Freeman will speak. Mr. Freeman, who has cerebral palsy, is the director of The Last Taboo, another look at sexuality among the differently-abled.
Other post-film guests scheduled to speak during the festival include Island pastors Cathlin Baker, Bill Clark and Chip Seadale and WMVY radio personality Laurel Redington Whitaker.
The complete schedule for the Spectrum Film Festival, with ticket information, is online at mvfilmsociety.com/spectrum-lgbt-film-festival-april-27-to-30-2017.